Make your own homemade taco seasoning mix with this simple DIY recipe. It's quick and easy! In just ten minutes, you'll have a high-quality blend of fragrant seasonings to use in infinite recipes.
Season ground beef, ground turkey, shredded chicken, steak, shrimp, veggies and so much more. You can also use your mix as a fun gift. Simply portion into pretty jars and add a bow!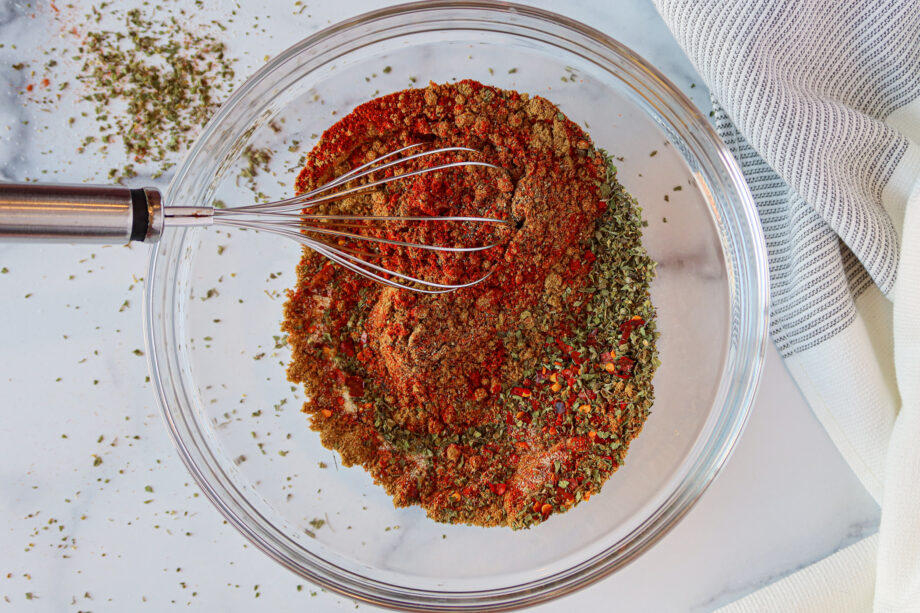 *Disclaimer: This article may contain affiliate links. As an Amazon Associate, I earn from qualifying purchases.
Can I just buy pre-mixed taco seasonings?
Of course! But keep in mind that many pre-mixed taco seasonings found at the grocery store have additives and aren't gluten free. If this is a concern for you, homemade taco seasoning is a great option. Take control of the ingredients in your food and experience better flavor than ever before with homemade taco seasoning mix. Pure spices, no additives!
Is homemade taco seasoning mix mild or spicy?
You can make it either way! It's all about the variety of chili powder you add to your mix. Chili powder is made of dried, crushed peppers. Some peppers have mild flavor, some are super spicy and some are middle of the road. Check the packaging label on different chilis powders at the grocery store to find information on spice level and pick one that suits your preference!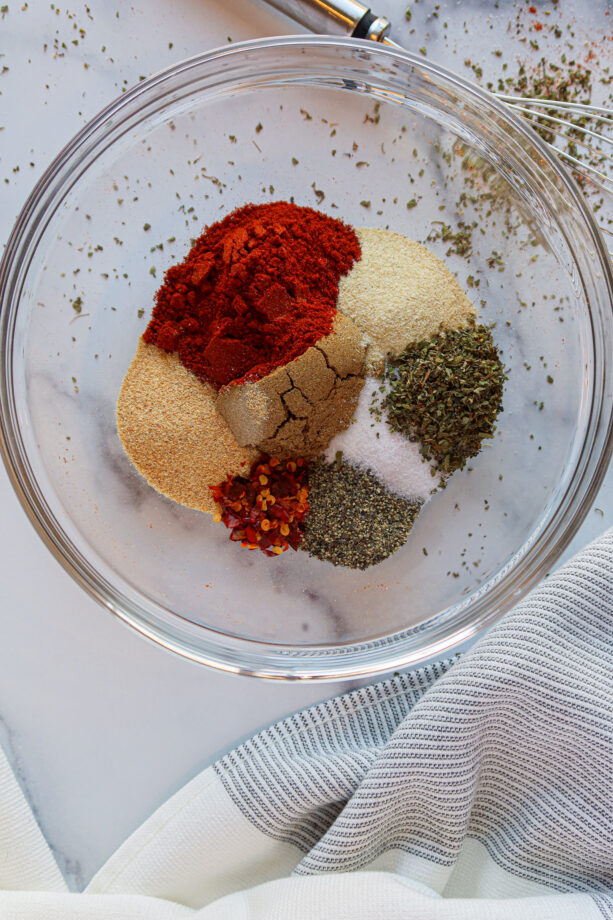 How much taco seasoning should I use per pound of meat?
Typically, you'll use about ¼ cup of seasoning per pound of meat. I like a stronger flavor so I usually end up adding a dash more. I recommend adding your seasoning slowly and taste testing along the way to get it just right!
Mexican oregano vs. oregano - what's the difference?
This recipe calls for Mexican oregano which has a full-bodied flavor and slight citrus undertones, Italian oregano is a bit lighter with mild notes of mint. You can substitute regular (Italian or Mediterranean) oregano for Mexican oregano, either will work! I prefer Mexican oregano for taco seasoning if I can find it at the grocery store.
Handy tips:
Homemade taco seasoning mix makes an amazing, edible DIY gift for the Mexican food lover in your life. Portion mix into a pretty, airtight jar. Add a bow and tag with a recipe or list of ideas for use.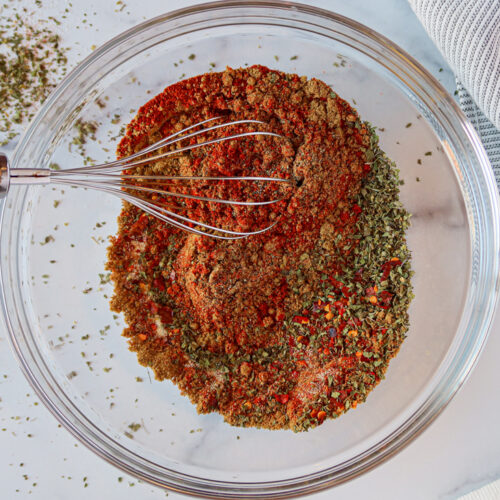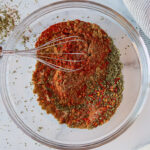 Print Recipe
Homemade Taco Seasoning Mix
Yield: approximately 15oz taco seasoning
Easy homemade, gluten-free taco seasoning with only 8 ingredients! A fragrant combination of cumin, chili powder, Mexican oregano, garlic, onion, salt, pepper & chili flakes.
Ingredients
½

cup

ground cumin

*see note below

½

cup

chili powder

*see note below

¼

cup

Mexican oregano

*see note below

2

tablespoons

garlic powder

2

tablespoons

onion powder

4

teaspoons

salt

4

teaspoons

ground pepper

2

teaspoons

red pepper flakes

*optional for a spicier mix
Recipe notes: 
Ground cumin & chili powder: buy these 2 ingredients in bulk if you can since they're the two you'll use most. This should lessen the cost of your taco seasoning mix. There are many different types of chili powder, choose one that is suitable to your tolerance for spice. I typically purchase a "medium-hot" variety (packaging will specify).
Mexican oregano: Mexican oregano has a full-bodied flavor and slight citrus undertones where Italian oregano is a bit lighter with notes of mint. Either will work fine but I prefer Mexican oregano for taco seasoning if I can find it at the grocery store.
Instructions
Nutrition
Serving:
2
tablespoon
|
Calories:
42
kcal
|
Fat:
1.7
g
|
Protein:
1.9
g
|
Carbohydrates:
7.1
g
Use your taco seasoning in these delicious recipes!