Shredded chicken is incredibly versatile and can be used in countless recipes. It's a great thing to make in bulk on a weekend day and store for quicker, easier weeknight cooking. Here are three techniques you can use to shred chicken at home and get prepped for the week - fast!
Before shredding, you will need to cook chicken using whatever method you prefer. You can poach it (simmer on the stovetop), use an Instant Pot/pressure cooker, or a crockpot. I prefer to cook my chicken in a little broth to infuse a bit of flavor, but water will work fine, also! Once chicken is fully cooked, let it rest for 10-15 minutes before shredding. This will result in a juicier final product.
How to shred chicken with forks: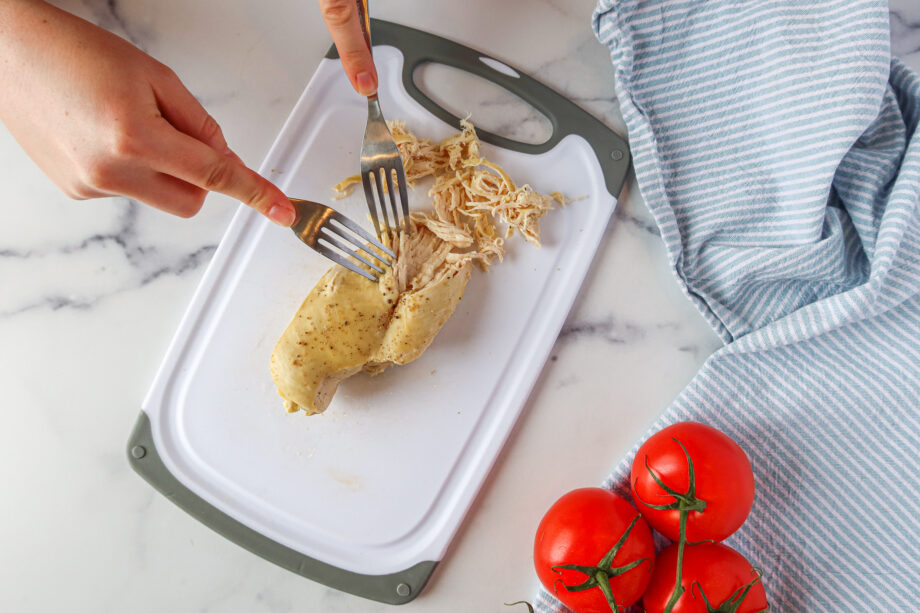 Shredding chicken with forks is easy! Hold one fork in each hand, use one utensil to keep the chicken in place and with other, begin pulling meat away from the breast or thigh.
How to shred chicken by hand: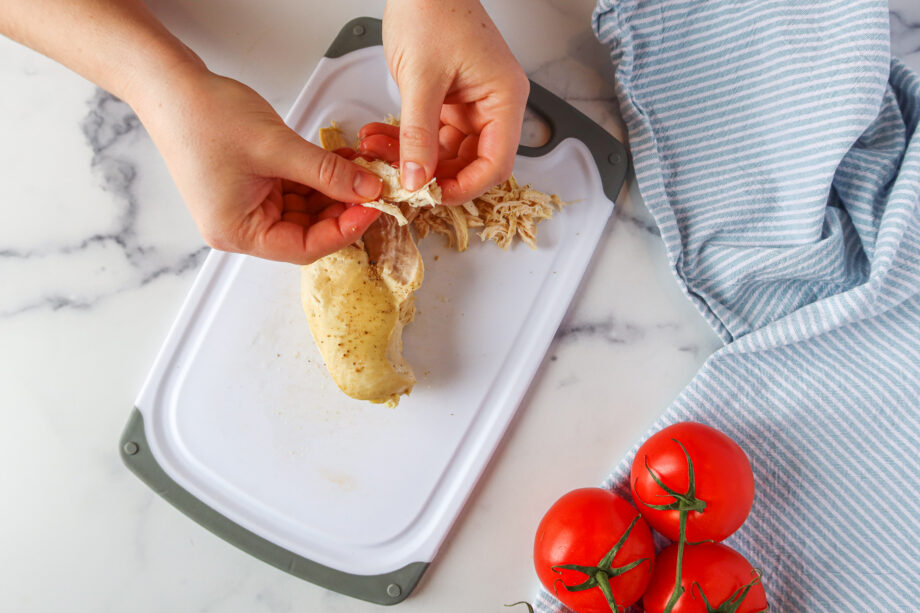 When shredding chicken by hand, be sure it has cooled down enough to touch. Then, simply use your fingers to tear the meat apart. This method is nice because it enables you to control the size of your shreds. Even better, it results in very few dishes!
How to shred chicken in a food processor: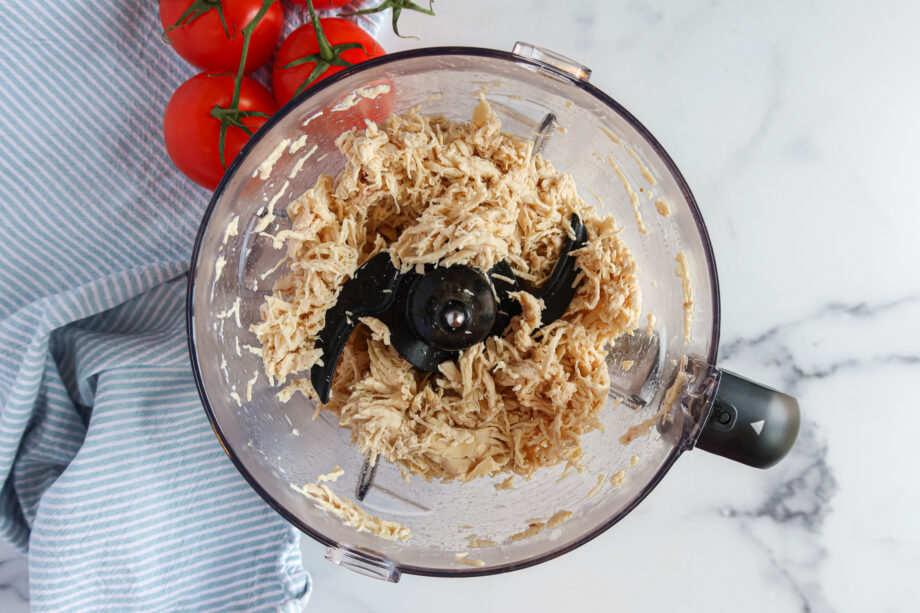 This is my favorite method. It's extra fast and great for bulk shredding. You'll want to use a plastic blade if you have one (many food processors come with them)! A metal blade works but will result in more of a diced texture. Place whole chicken breasts into your processor and pulse about five times. This method does result in more dishes, but thankfully, most food processors are dishwasher safe.
Frequently asked questions:
Can you freeze cooked shredded chicken?
You can freeze cooked, shredded chicken for up to 4 months. I highly recommend making shredded chicken in bulk when you have time, and freezing it for later use! This practice will really cut down on time spent in the kitchen on busy weeknights. Once you're done shredding your chicken, portion it into food storage containers. I typically store my chicken in 2 cup portions (about 225 grams/8oz/1 large chicken breast). This portion size has worked well for me in almost any recipe that calls for shredded chicken! Freeze for up to 4 months.
Can you refrigerate shredded chicken?
Yes! Refrigerate cooked, shredded chicken for 3-4 days.
Can you shred chicken thighs?
Yes! Boneless, skinless chicken breasts or thighs work great for making shredded chicken.
Can I just buy pre-shredded chicken at the grocery store?
Many grocery stores carry shredded chicken. Check in the refrigerated and frozen food sections. It may also be in the deli! However, shredding your own chicken is easy, less expensive, and gives you more control over ingredients (less preservatives and processing).
Can you shred cold chicken?
You can, but it will be much more difficult than shredding warm chicken. I highly recommend cooking your meat, letting it rest for 10-15 minutes, and then shredding immediately using whichever method you prefer.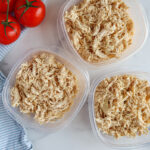 Print Recipe
Poached, Stove Top Shredded Chicken
Shredded chicken recipe for use in countless recipes! Soup, stew, chili, salads, casseroles, tacos, enchiladas and so much more!
Ingredients
3

large

chicken breasts, 8 ounces each

2

cups

chicken broth *about 1 can - see note below

fresh ground pepper *optional
Recipe notes:
Chicken broth: I've started using broth base/bullion instead of canned or boxed broth. It takes up way less space in my grocery cart and lasts much longer. Plus, you can mix it with hot water and bring it to a boil faster when you're trying to conserve time. Find broth base/bullion by the canned broth in the grocery store or buy it on Amazon. I like this brand a lot!
Instructions
Place a large stock pot on the stove top. Put chicken broth in the pot and turn heat to high.

Add chicken to the pot and sprinkle with fresh ground pepper (optional). Bring to a rolling boil.

Reduce heat to low, cover, and simmer chicken for 10 minutes. Flip over and simmer for 10-15 more minutes.

Once chicken reaches an internal temperature of 165°F, remove from the pot. Let chicken rest for 10-15 minutes and then shred.
Nutrition
Serving:
4
oz
|
Sugar:
1
g
|
Calories:
100
kcal
|
Fat:
2
g
|
Protein:
22
g
|
Carbohydrates:
1
g
Here are some shredded chicken recipes you'll love!