This creamy whipped cottage cheese recipe is so scrumptious and easy to make! Take traditional cottage cheese to a whole new level of delicious by pureeing curds into a smooth spread or dip. It's perfect with fruit, veggies, crackers, chips and much more. Enjoy it plain or ad fun mix-ins to create sweet or savory renditions.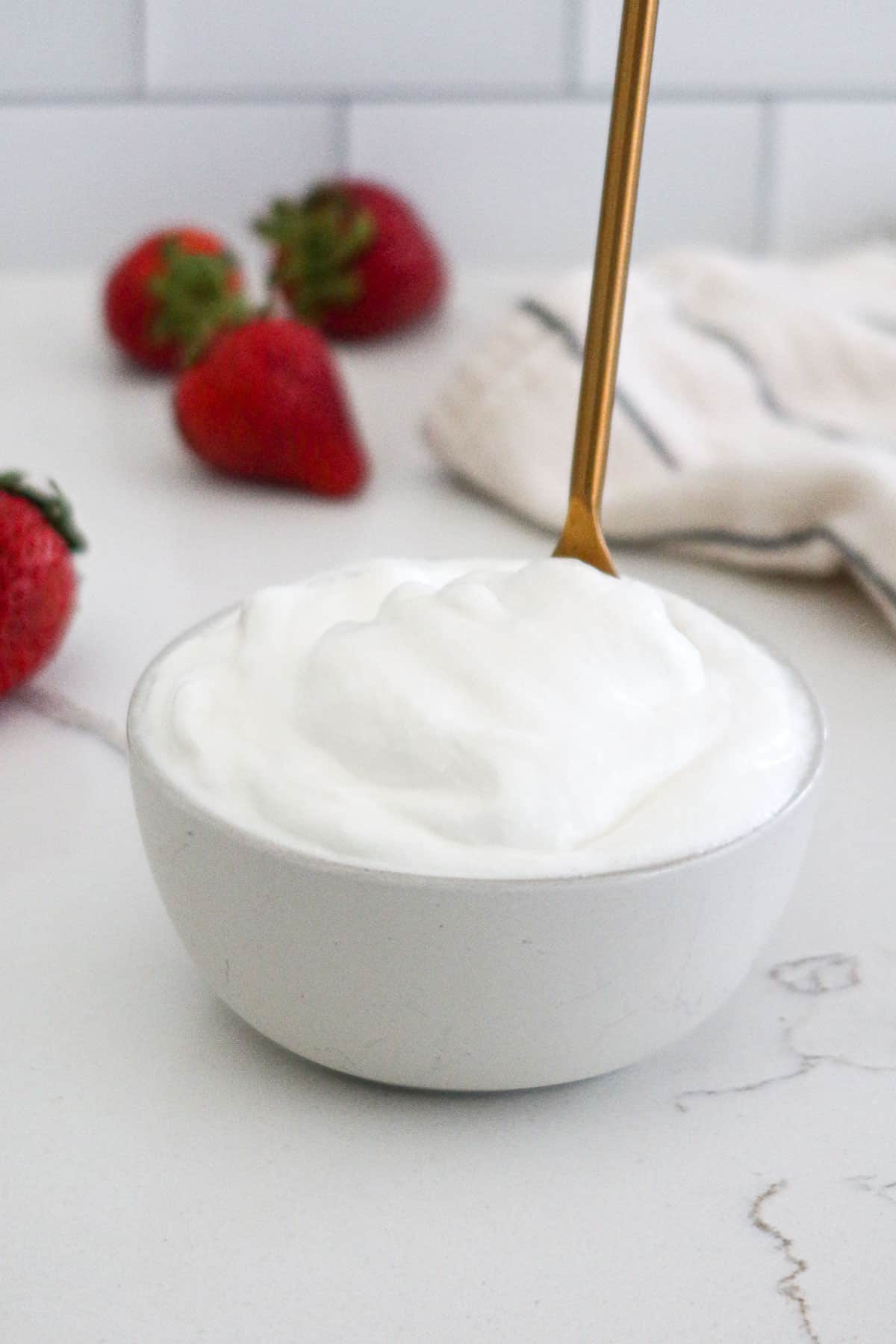 Disclaimer: This article contains affiliate links. As an Amazon Associate, I earn from qualifying purchases.
Not only is this fluffy cheese whip delicious, it's healthy!
Cottage cheese is a fantastic source of protein with a whopping 14 grams per half cup and only 3 grams of carbs. It's also mineral rich and loaded with vitamin B12! (source: healthline.com).
And if you've not typically been a fan of cottage cheese in the past, this whipped rendition is bound to change your mind.
It's really good plain, but I LOVE adding honey and chocolate protein powder or peanut butter powder. It gives a cheesecake vibe and is the perfect dip for fruit and graham crackers. It's hard to believe it's so low carb, keto friendly, low calorie and protein packed.
If you love this recipe, you should definitely check out my Greek Yogurt Peanut Dip. It's quite similar, also healthy and just as delicious.
Jump to:
Ingredients & Substitutions
Good cottage cheese: All you need for this recipe is some high quality cottage cheese! If there's one thing I've learned recently, it's that all cottage cheese brands are NOT created equal. I tried store brand (Kroger), Daisy, and Good Culture.
Now whipped cottage cheese is ALL the rage on TikTok right now. Creators are using it to make all kinds of delicious goodies. Most suggest the brand Good Culture, and that's the reason I gave it a whirl.
I was honestly shocked at how much better it tasted than the store brand. The Daisy cottage cheese was middle of the road, but still yummy. And I mean, I won't bash on the store brand but this is an area where I'd personally choose to splurge.
And I prefer to use 4% whole milk cottage cheese, but any percent will do.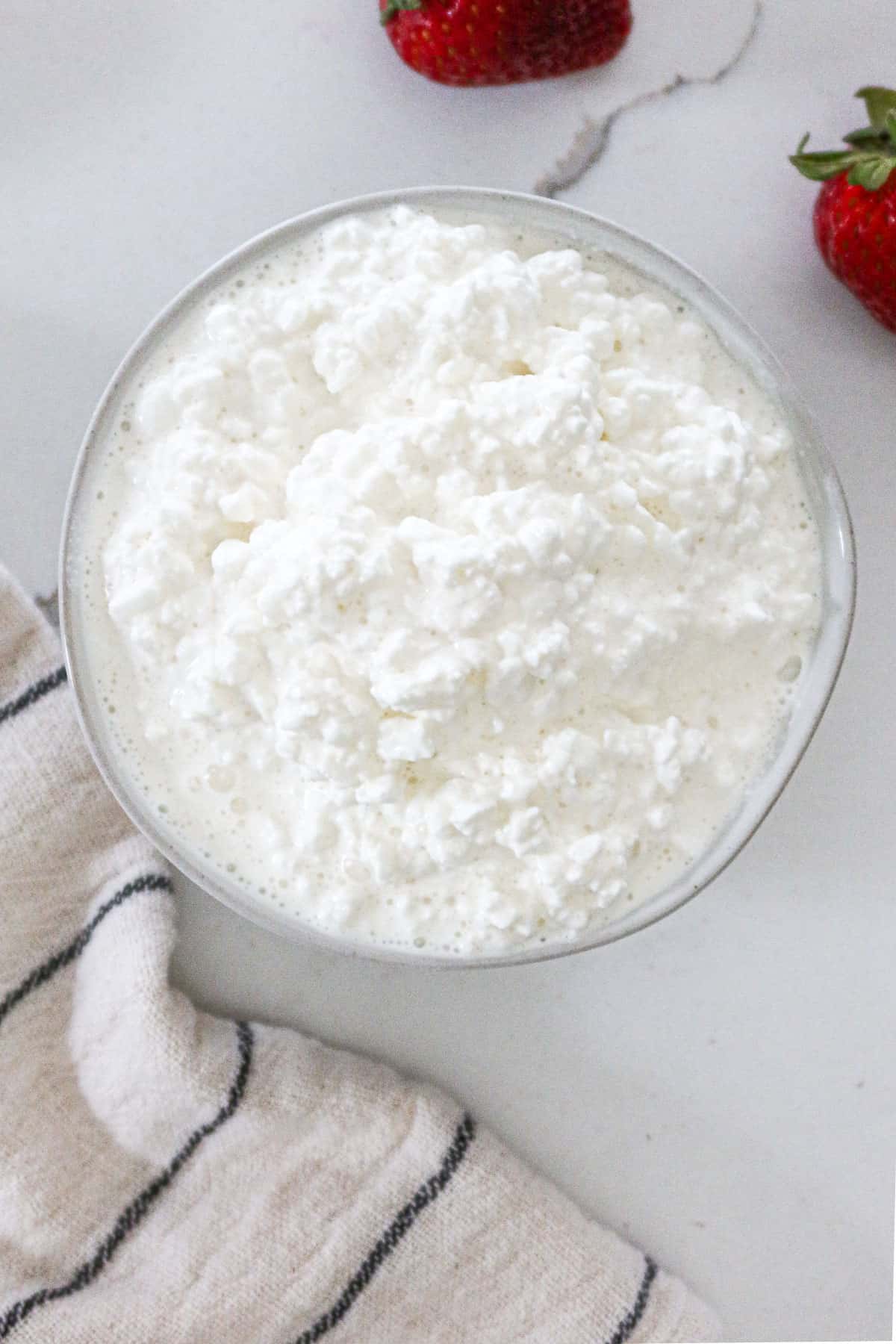 How To Make Whipped Cottage Cheese
Keep scrolling for the full recipe card and measurements. We'll start here with a quick overview!
Scoop:
Remove cold cottage cheese from the refrigerator and use a spoon or rubber spatula to scoop all of it into your food processor or high-speed blender.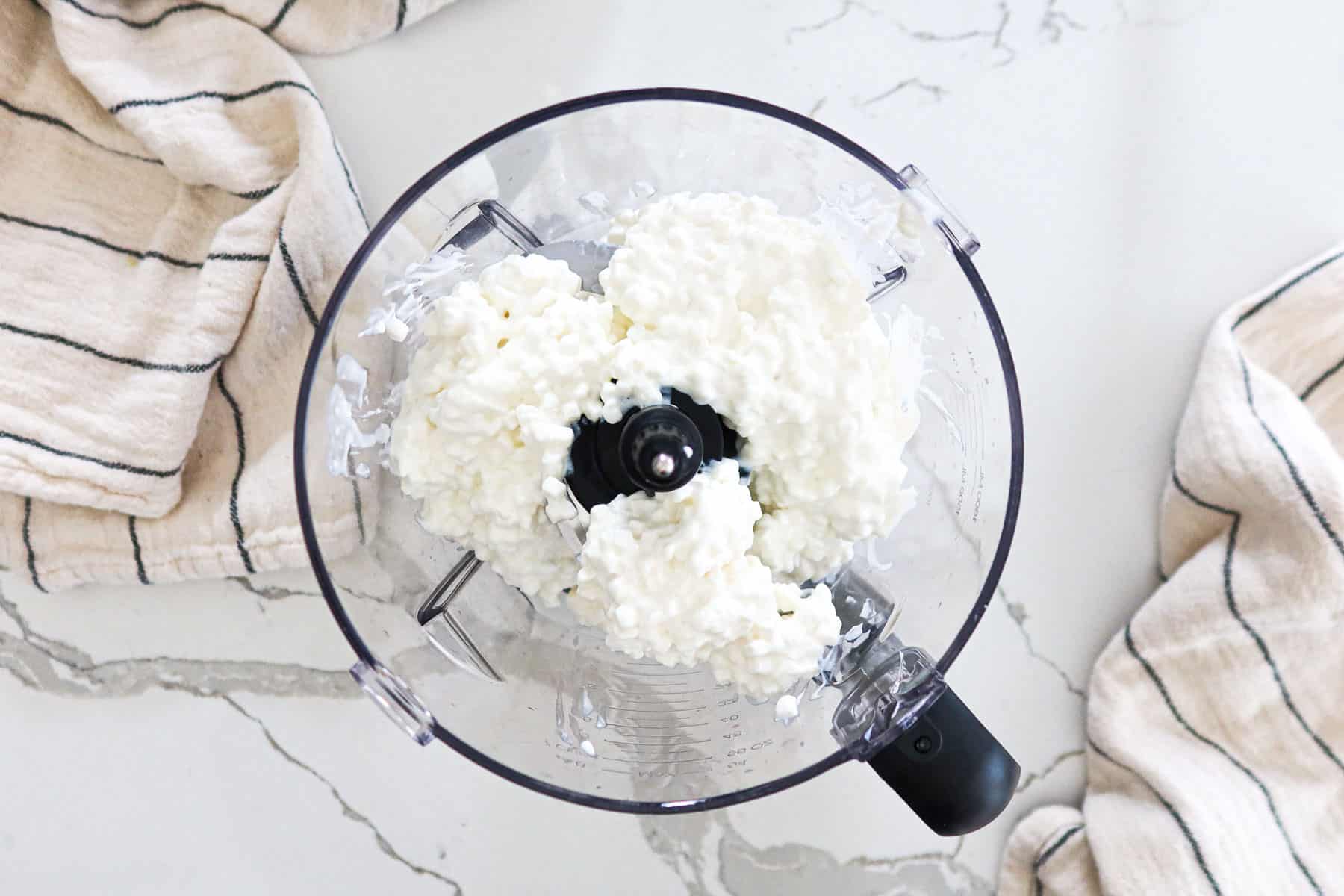 Puree:
Blend/puree cottage cheese until smooth. This shouldn't take too long, likely 1-2 minutes. Stop and scrape down the sides as needed.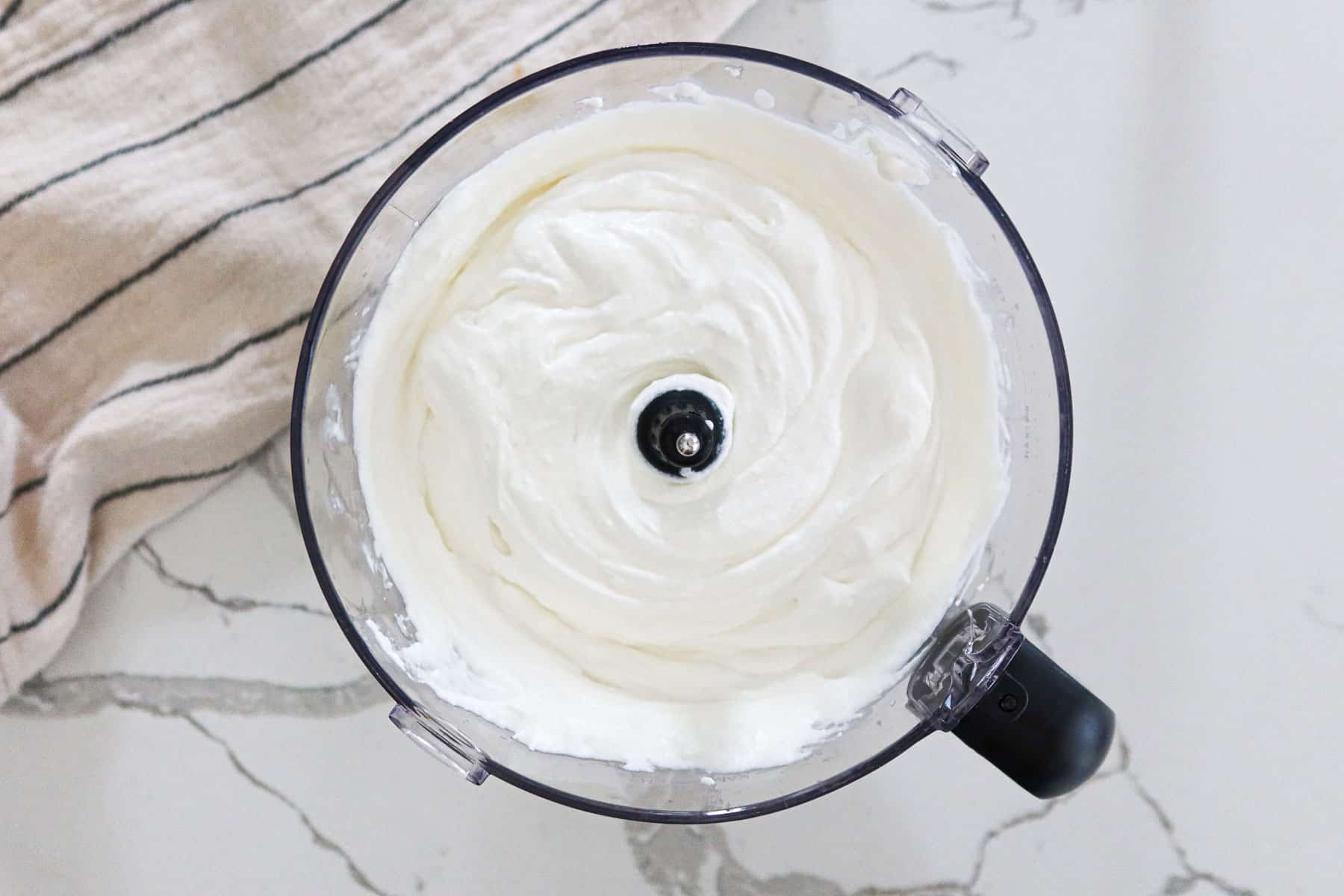 Enjoy!
At this point you can add mix-ins if desired. I generally chill my cottage cheese before eating, it sets up very nicely in the refrigerator. However, you can totally dive right in!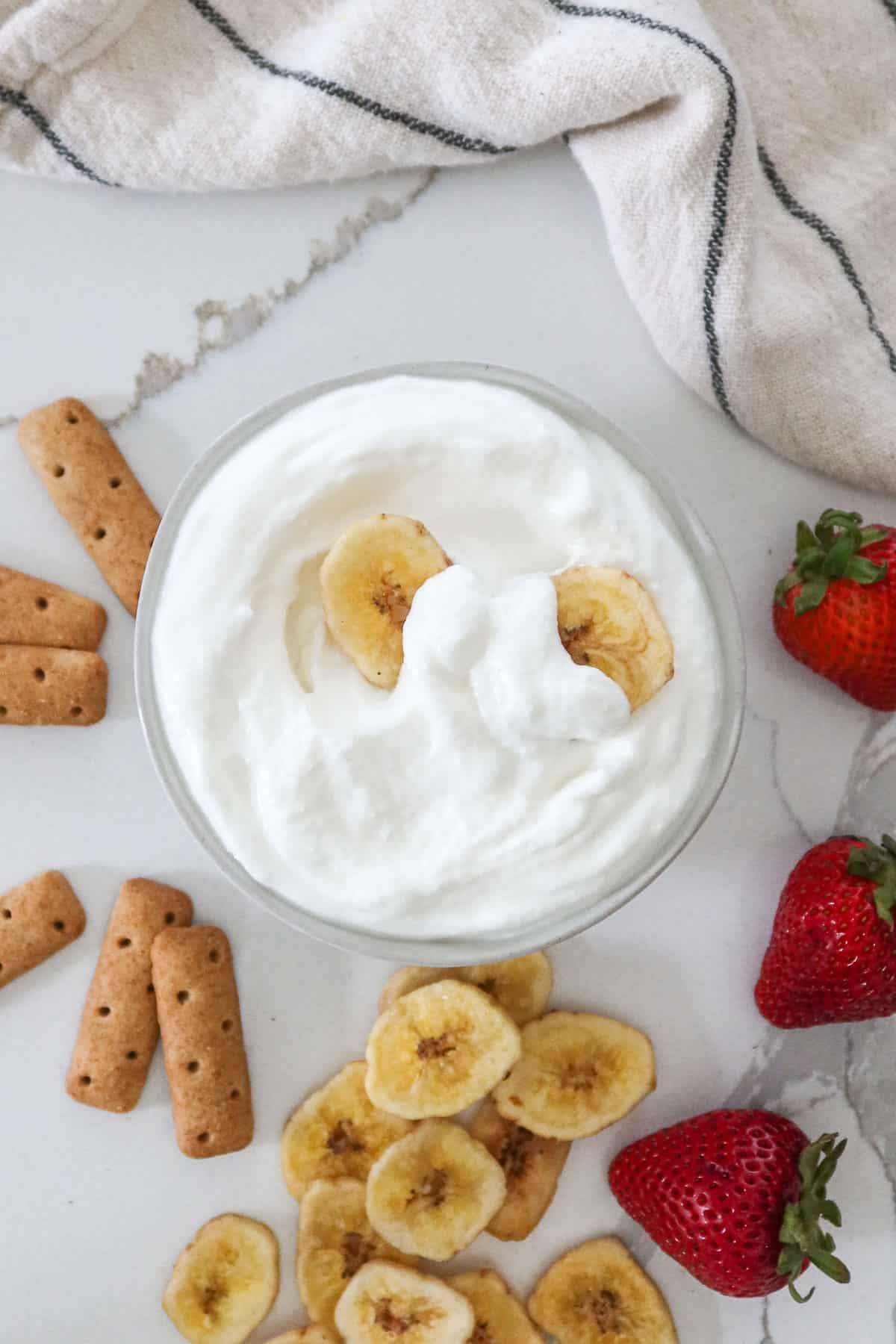 Expert Tips
Chill after blending: I chill my whipped cottage cheese for 30-60 minutes before eating. In my opinion, it tastes even better when it's nice and cold!
Blender VS Food Processor: Appliances vary, so this may not be the case in your kitchen. But, I have found that my blender results in a more dense, pudding like, super smooth whipped cheese. My food processor usually makes for a more light and airy final product! Both are fabulous.
Make it in bulk: It's easier to blend a lot of cottage cheese all at once, rather than in small portions.
How To Eat Whipped Cottage Cheese
This delicious treat is super versatile. There are so many ways you can enjoy your fluffy whip! Here are some ideas for inspiration:
Serve it as a party appetizer: Place your whipped cottage cheese in a pretty serving bowl and surround it with fresh fruit and veggies for dipping.
Just dive in! Grab a spoon and savor your whipped cheese in it's purest form.
Single serving: Scoop it into a small bowl and top with raspberries, strawberries, blueberries, banana slices, banana chips, diced mango or juicy peaches! Finish things off with a sprinkling of homemade granola and a drizzle of honey or pure maple syrup. This makes the BEST high-protein breakfast or snack.
Spread it! This spreadable treat is great on wraps, sandwiches, pancakes, French toast, whole grain toast, crostini or crackers. I like to top my cottage cheese toast with a sweetener and some nuts or seeds for wholesome crunch.
Recipe Variations
Sweet dreams: Make high protein cottage cheese desserts with ads in like pure maple syrup, honey, cinnamon, unsweetened cocoa powder, peanut butter powder, vanilla extract or almond extract. You can also use your favorite sugar-free sweetener, if desired. Top with chocolate chips, crumbled graham crackers, cacao nibs, fruit or crunchy granola.
Salty and savory: Add minced fresh herbs like cilantro, dill, chives or parsley. Sprinkle in some spices like salt, black pepper, smoked paprika, garlic powder, onion powder, rosemary, Italian seasonings and more! Serve with fresh veggies, or wheat thins for a healthy treat.
Feel the heat: If you like spicy food, add a kick with hot sauce, cayenne pepper, peppers in adobo sauce, or red pepper flakes!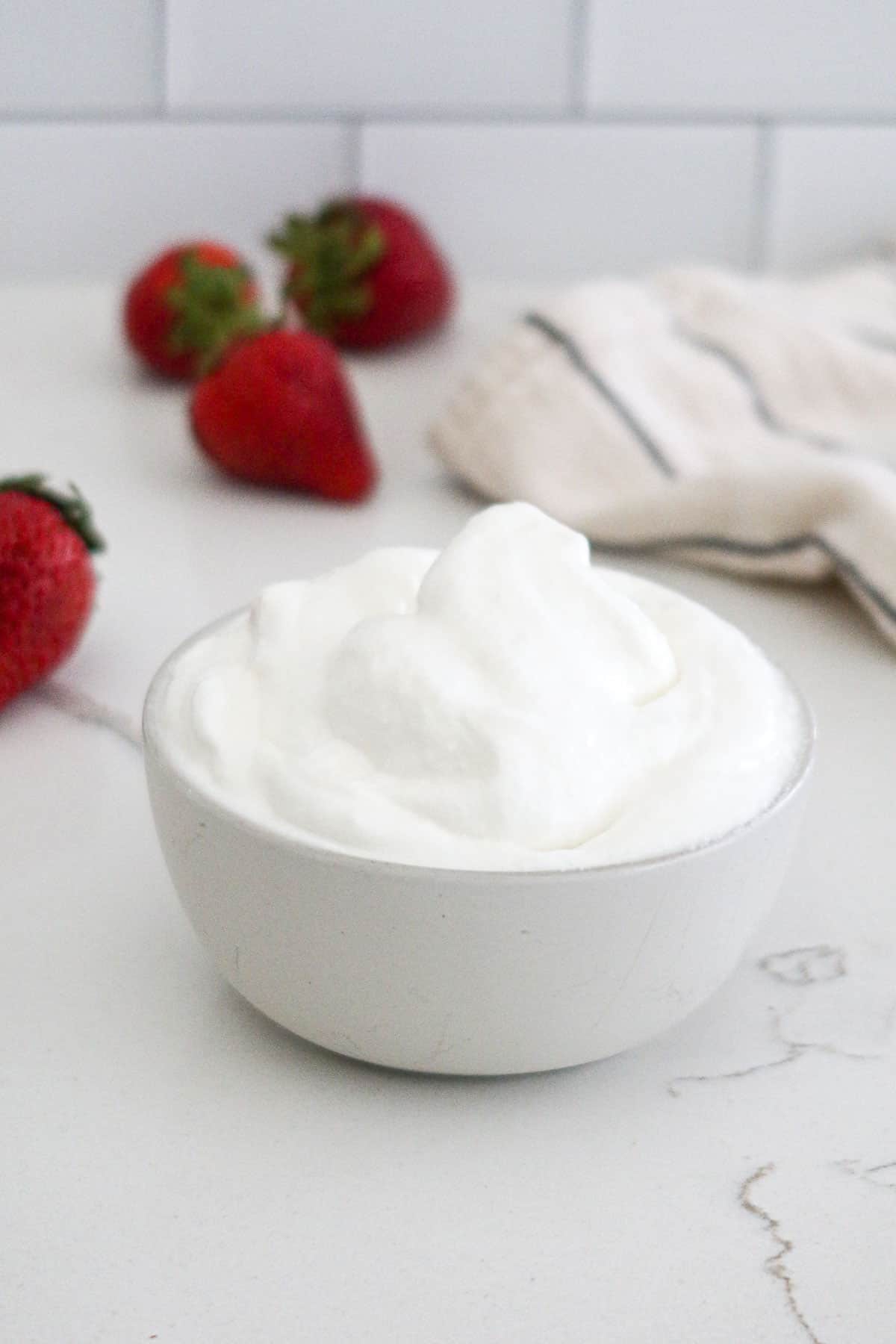 Storage
I recommend storing your whipped cottage cheese in an airtight container in the refrigerator. I often rinse out the original packaging and place it right back in there!
Generally, I use the date on my cottage cheese container to determine how long it will keep. If you're adding any mix-ins, I'd store it for only 3-4 days.
As with everything, use your senses and toss anything that develops any growth or an odd smell.
Frequently Asked Questions
What does whipped cottage cheese taste like?
Whipped cottage cheese has a pudding-like creamy texture and mild cheesy flavor. It's sort of like sour cream, but less tangy.
Is whipped cottage cheese the same as regular cottage cheese?
Yes and no! Whipped cottage cheese is simply curds blended into a smooth, creamy treat. It tastes pretty much the same as regular cottage cheese but with a different texture.
What is whipped cottage cheese?
It's simply cottage cheese that's been blended until smooth and creamy!
Pin it for later!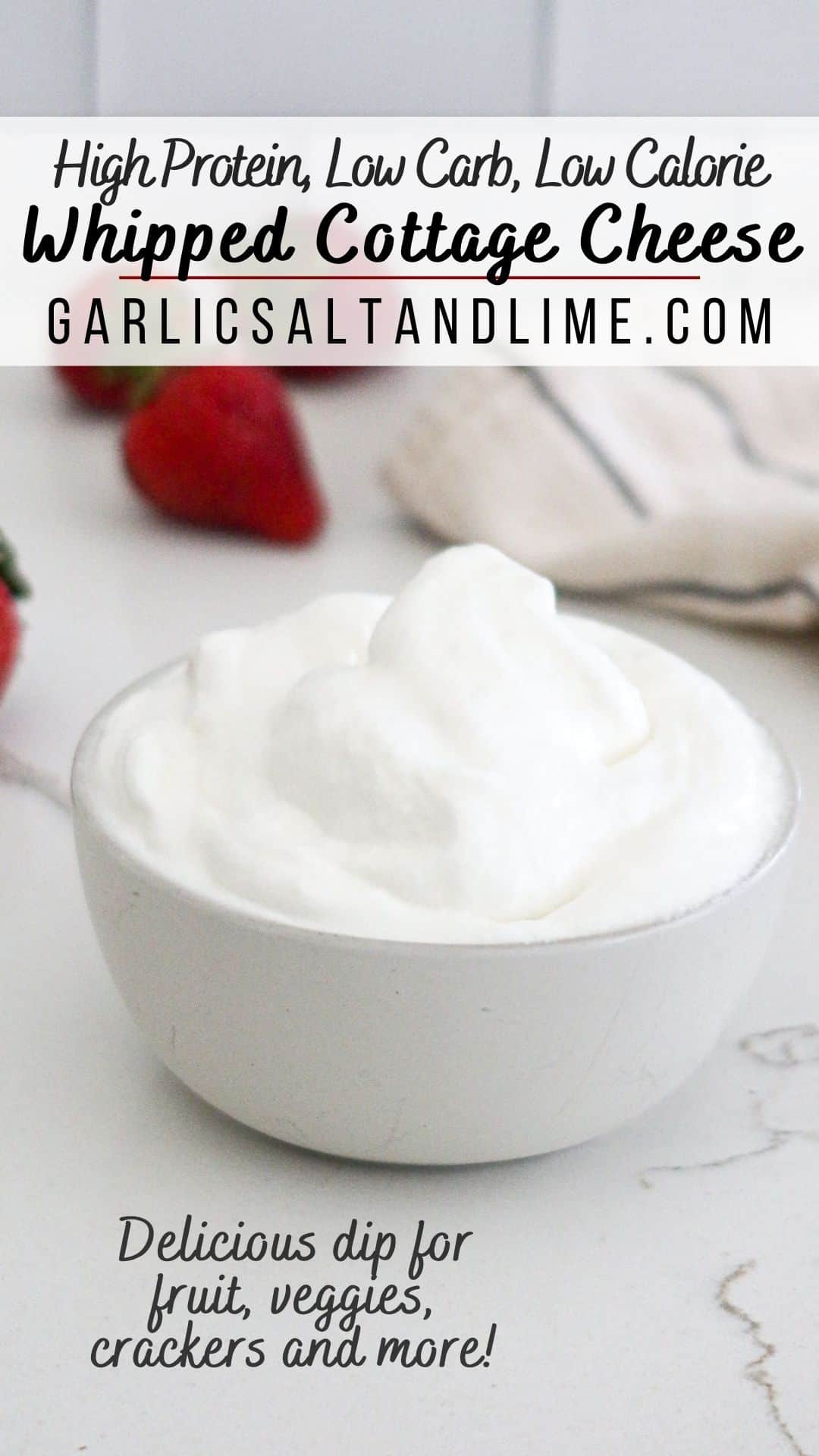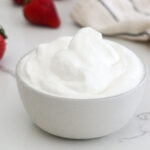 Print Recipe
Creamy Whipped Cottage Cheese
Creamy whipped cottage cheese is so scrumptious and easy to make! Take traditional cottage cheese to a whole new level of delicious by pureeing curds into a smooth spread or dip. It's perfect with fruit, veggies, crackers, chips and much more. Enjoy it plain or ad fun mix-ins to create sweet or savory renditions.
Equipment
Food processor or high-speed blender
Ingredients
1

24oz container

cottage cheese

*see notes below
Recipe Notes:
Note 1: I use 4% whole milk cottage cheese, but any perfect will do.
Note 2: My favorite brand is Good Culture. It's got the BEST flavor by far. However, you can absolutey use your preferred brand!
Note 3: Appliances vary, but I have found my food processor makes this whipped cheese light and fluffy. My blender tends to result in a creamier, more pudding like final product. Both are delicious!
Instructions
Place cottage cheese into your high speed blender or food processor using a spoon or spatula.

Blend on high speed for 1-2 minutes until smooth!

Add mix-ins if desired, or enjoy plain! I like to chill my whipped cottage cheese for around 30-60 minutes before indulging, but you can dig in right away.

(Note: my favorite mix-ins are honey and peanut butter. It's so good and tastes like cheesecake)!
How To Store:
Place leftovers in an airtight container (or back in the original plastic container from the grocery store). I normally use the date on the container as a guideline for storage time.

If you add mix-ins, I'd reduce storage time to 3-4 days. As with anything, throw your cottage cheese out if it develops any growth or smell!
Nutrition
Serving:
1
/4th of recipe (no mix-ins included, all values are approximate and will vary by brand)
|
Sodium:
585
mg
|
Calcium:
150
mg
|
Sugar:
6
g
|
Potassium:
195
mg
|
Calories:
165
kcal
|
Fat:
7.5
g
|
Protein:
19.5
g
|
Carbohydrates:
7.5
g
|
Iron:
0.15
mg
Did you make this recipe?!
Wahoo! Thank you so much for trying it out – would you leave a rating?! Simply click on the stars in the recipe card above.