A while back, I was looking for a decent and affordable tequila for skinny margaritas (my favorite cocktail). After some suggestions and general information provided by a liquor store employee, I settled on Olmeca Altos Plata.
My general opinion? It's good quality and quite smooth for the price point! You get a nice value and bang for your buck with this option. I also really appreciate the pretty bottle and feel it makes the tequila very giftable.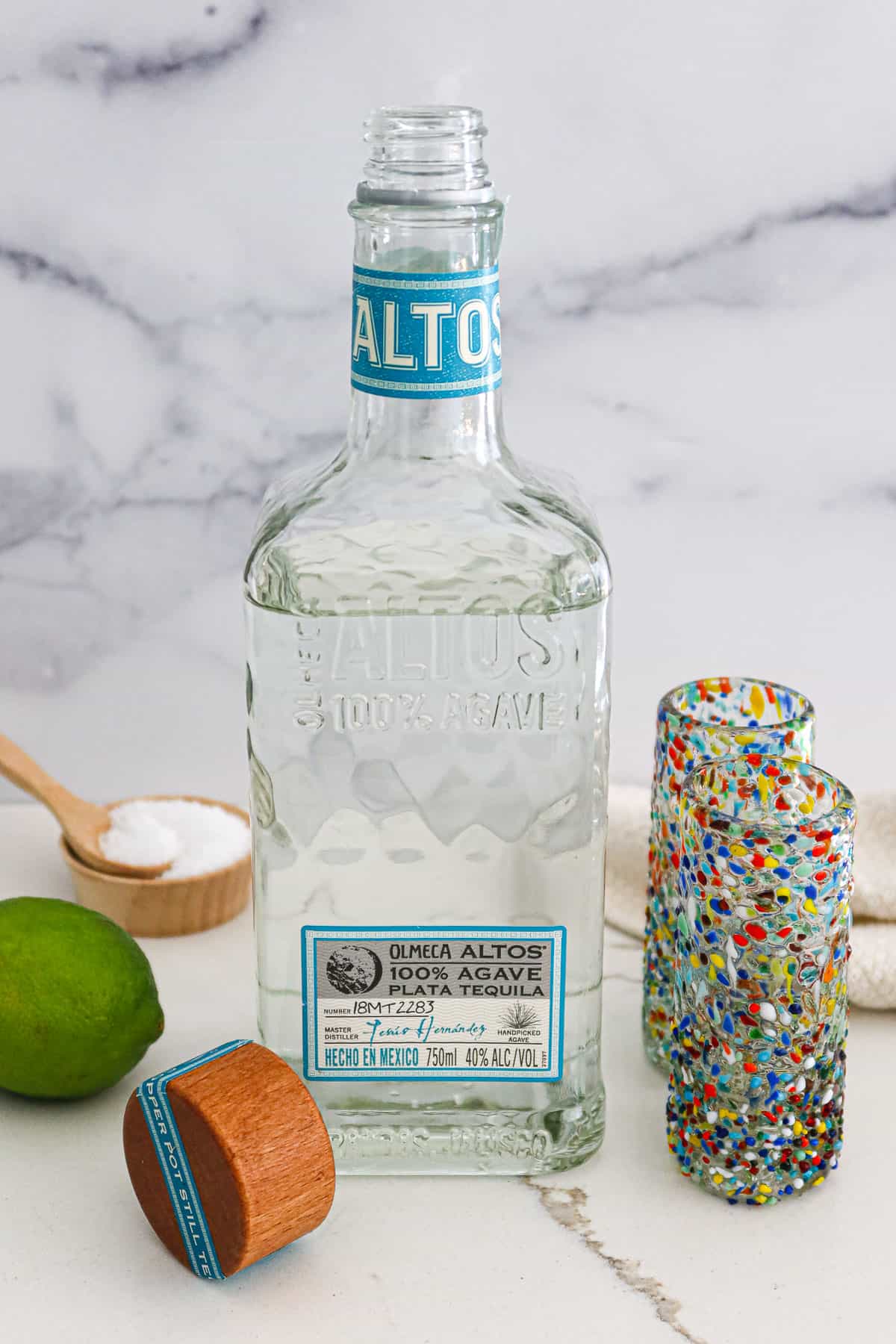 According to their website, Olmeca Altos was founded by two renowned bartenders: Dre Masso and the late Henry Besant. They partnered with expert distiller and master tequilero Jesús Hernández to create their three classic tequila offerings.
All three are 100% blue agave tequila, made with plants grown 2100 meters above sea level in the rich, volcanic rock soil of Los Altos (the highlands of Jalisco, Mexico).
Jump to:
There are three different tequilas under the Olmeco Altos umbrella:
Olmeca Altos Plata
I purchased the Olmeca Altos Plata Tequila for my liquor cabinet. This is the white/clear or blanco tequila in the Altos family of offerings. It lacks any golden hue because it's unaged tequila and hasn't spend any time in oak barrels.
The Altos tequila plata mixes very nicely into a refreshing cocktail. Per Olmeco Altos website, it features "herbal notes of steamed agave and fresh citrus-sweet tones overall." I couldn't agree more and certainly experienced bright, fruity and herbal flavors when tasting the plata.
I also decided to purchase a shooter of Casamisgos Blanco tequila so I could compare the two, and I really enjoyed both!
Casamigos is a lot pricier than Olmeca tequila. I don't know that I'd consider it better, it's simply very different. Altos is really bright and herbal with a fruity aroma, where Casamigos is quite vanilla heavy.
Olmeca Altos Reposado
Altos Reposada Tequila is a light golden color, due to the aging process. Reposado tequilas are aged anywhere from 2 months to a year. (source: siptequila.com)
Fun fact: many tequila brands age their offerings in whiskey barrels, but Altos actually uses small bourbon barrels.
Because this tequila must spend some time aging, it's a bit more expensive than the Plata.
Per the Olmeca Altos website, this reposado has aroma of orange and grapefruit, complimented by cooked agave, vanilla and slight woodiness with a robust taste and citrus notes!
Olmeca Altos Añejo
Olmeca Altos also has an Añejo tequila, which is simply aged longer than the Reposado.
Añejo tequilas are aged for 1-3 years, and typically quite dark after spending so much time in a barrel. They almost take on a hue similar to caramel or honey. Many who enjoy tequila really like sipping an añejo neat or simply on ice. (source: siptequila.com)
Take the aging a step further and you've got an extra anejo tequila, which must spend 3-5 years aging. At this time, Olmeca Altos doesn't have an extra añejo option, but who knows what the future holds!
Is Altos A Good Tequila?
Altos has a nice taste and is quite smooth. I find it enjoyable on ice, as a sipping tequila, but really prefer it in cocktails overall.
It's especially perfect for beverages that highlight the flavor of your tequila selection like a skinny margarita, tangy paloma or tequila soda with zesty lime.
You don't have to make a super sugary drink, like a tequila sunrise, to mask the flavor of Altos because it's got great flavor all on it's own.
Would I buy Altos Tequila Again?
I would absolutely buy Olmeca Altos Tequila again! It's nice tequila for a good price. Altos doesn't rank as a super premium tequila brand but it's a fabulous, middle of the road option.
Is Altos Tequila Cheap Tequila?
Though affordable, I wouldn't consider Altos tequila to be "cheap" by any stretch of the imagination.
It's made with 100% agave, which means it's doesn't contain any artificial fillers or coloring. This is the most important thing to pay attention to when looking for a high quality tequila.
Really cheap tequila is made with only part blue weber agave and supplemented with low price fillers.
Generally this type of tequila is only tolerable if mixed into super sugary alcoholic beverages, and it's what you can expect to find at a college bar on two for one night.
Olmeca Altos is a FAR cry from that. It's a high quality, good tequila and I highly recommend it for your liquor cabinet!