Tequila soda with lime! This simple highball cocktail is perfect on a hot summer day. Mix it up in just a few minutes with 3 simple ingredients. It's low calorie, low carb and perfectly refreshing.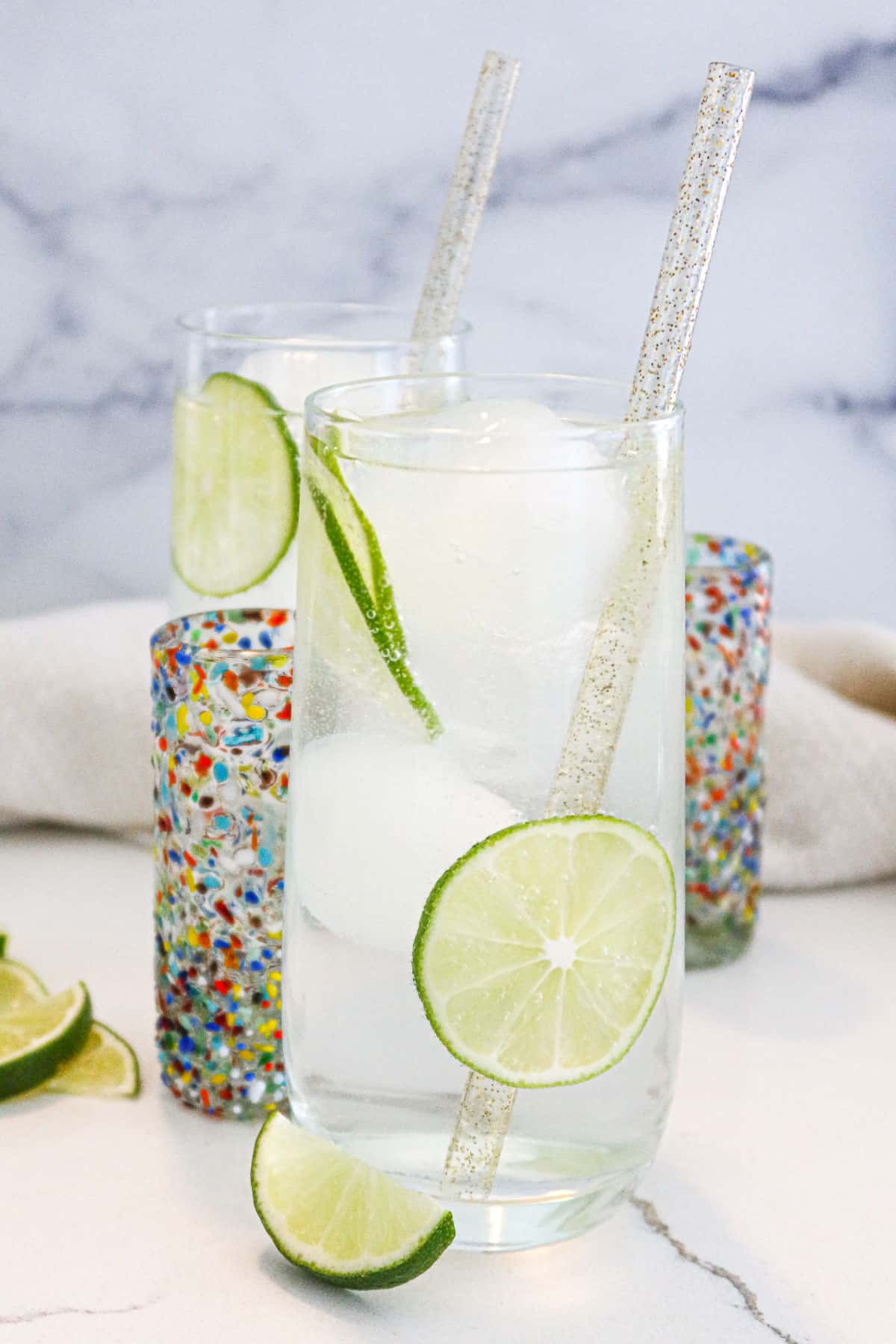 Disclaimer: This article contains affiliate links. As an Amazon Associate, I earn from qualifying purchases.
This refreshing cocktail screams summer. In my opinion, it's best sipped on the front porch while basking in sunshine as the smell of fresh cut grass wafts through the air.
And if you love tequila mixed with plain soda water and citrus, I'm willing to bet you'd also enjoy a Classic Skinny Margarita or tangy paloma with grapefruit juice.
Need a snack? Enjoy your tequila cocktail with Shrimp Tostadas, or tortilla chips dipped in Homemade Guacamole, Roasted Poblano Sauce or Healthy Queso Dip!
Jump to:
Ingredients & Substitutions
Tequila: I prefer using blanco tequila (white/clear). You'll need a somewhat high quality tequila for this fresh beverage as the taste won't be masked by excessive sugar.
Club Soda: Purchase club soda, rather than tonic water. Tonic water is a sweet mixer, high in added sugar and calories (unless you buy a sugar free version). You can buy tonic water if you prefer to make a sweeter tequila tonic beverage, and if you want ranch water you'll need Topo Chico sparkling mineral water!
Fresh Lime: Avoid bottled lime juice as it tends to taste stale. Instead, use a citrus press to squeeze fresh limes. The flavor is SO much better, and if you don't have a press you can totally just juice your limes by hand.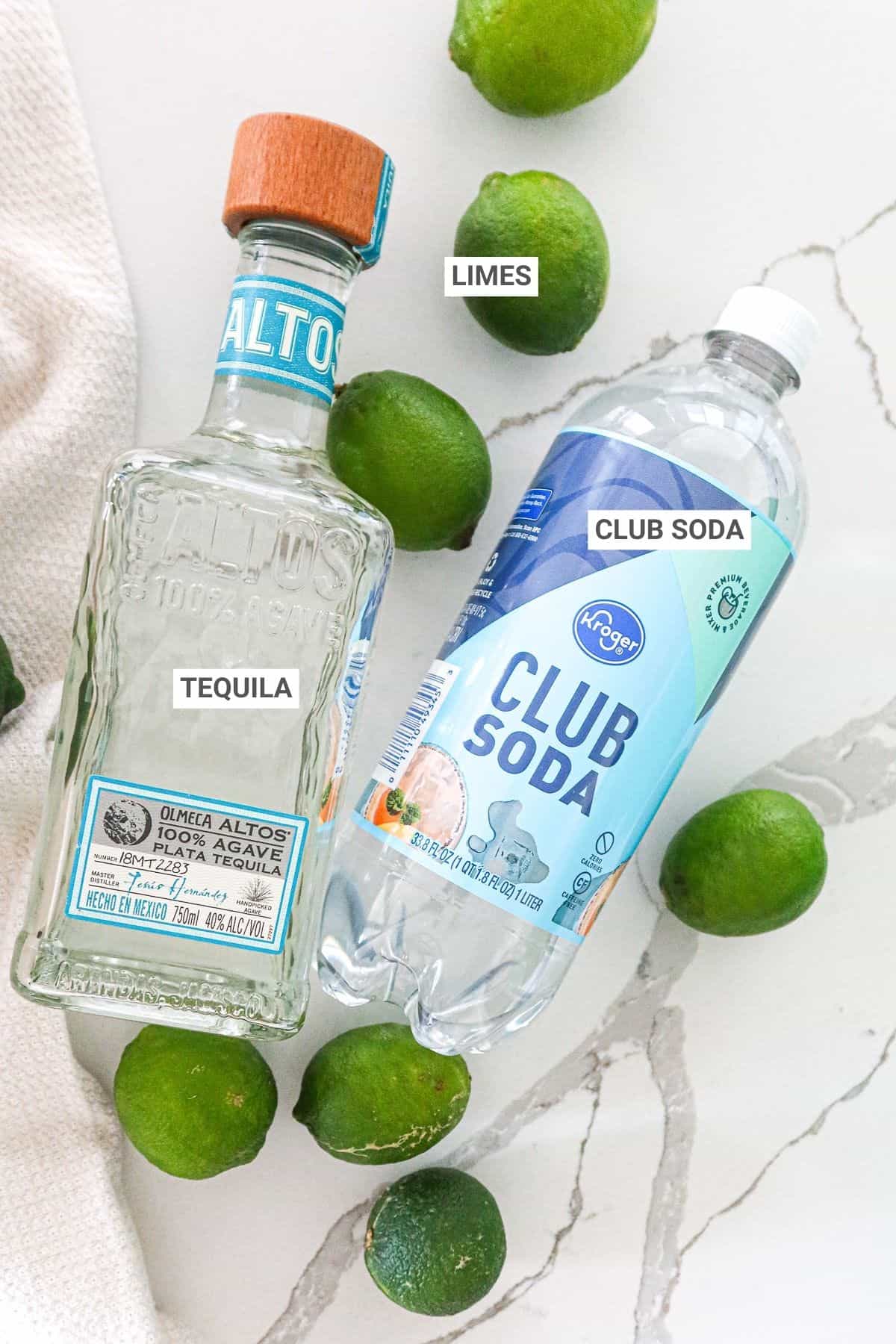 What Tequila Is Best For Soda?
Because this fresh drink is very low sugar, it's important to use quality tequila. The flavor of your selection will really shine through! The most important thing is to use 100% blue agave tequila.
Super cheap tequila contains only part agave and is supplemented by coloring and fillers.
So do you need to spend a ton on spirits? Definitely not! I really enjoy 1800 Silver Tequila and Altos Tequila Plata in this drink. Both are around $20.00 to $30.00 for a 750ml bottle, depending on the liquor store.
I prefer to use tequila blanco in my soda water. This means the spirit is clear and uncolored since it hasn't spend any time aging in oak barrels.
You can use a Reposado or Añejo tequila if you want. They tend to have woody, cinnamon and vanilla undertones rather than floral or fruity. Plus, they're generally more expensive since they spend time aging!
How To Make Tequila Soda
Keep scrolling for the full recipe card and measurements. We'll start here with a quick overview!
Add ice:
Start by adding ice to your favorite cocktail glass. Note: you can rim your glass with salt before adding ice if you want! This isn't exactly a margarita, but its related and tequila is always good with salt.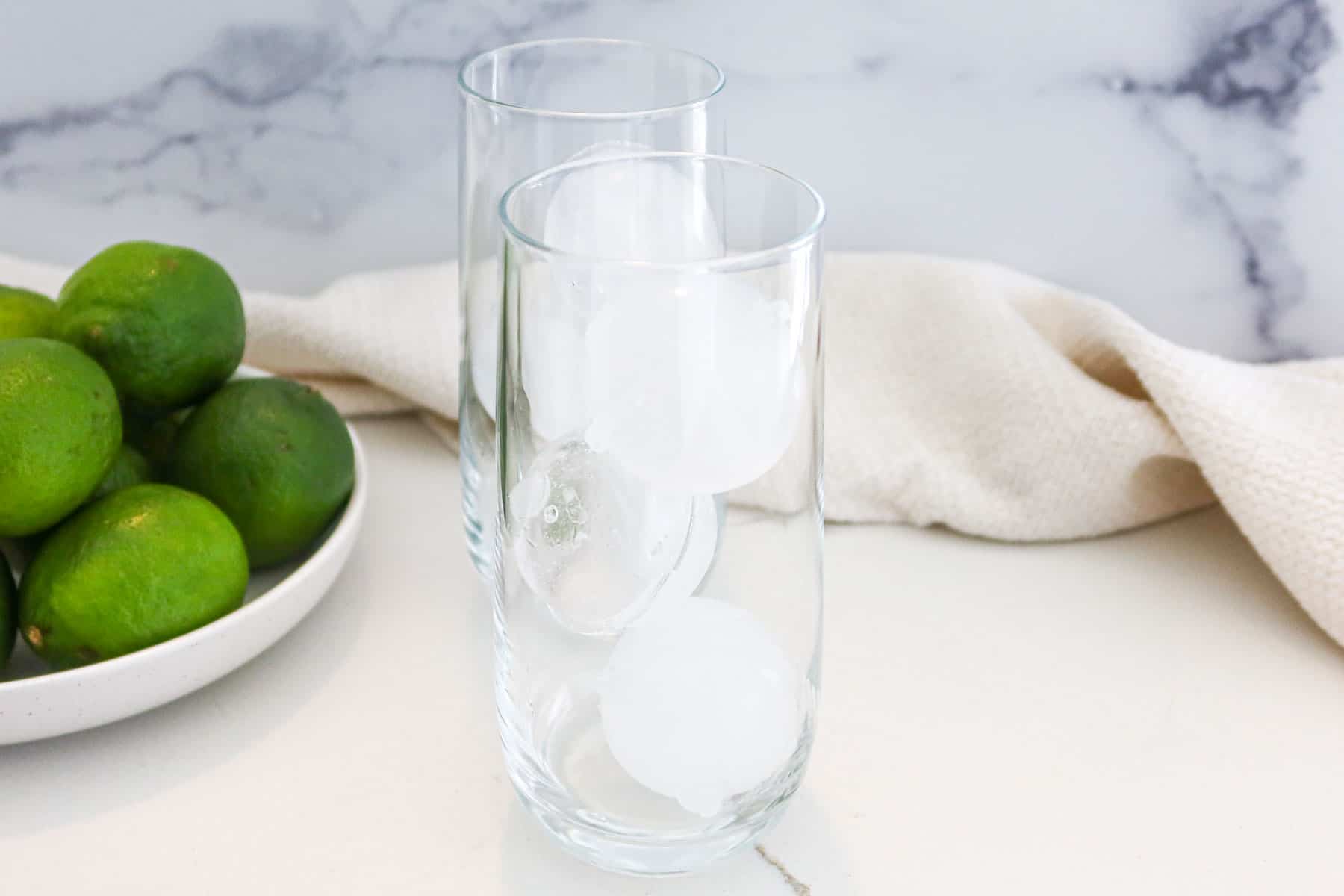 Pour tequila:
Next, pour tequila over ice cubes. I typically add 1 & ½ ounces of booze. Feel free to use more or less depending on your taste preference.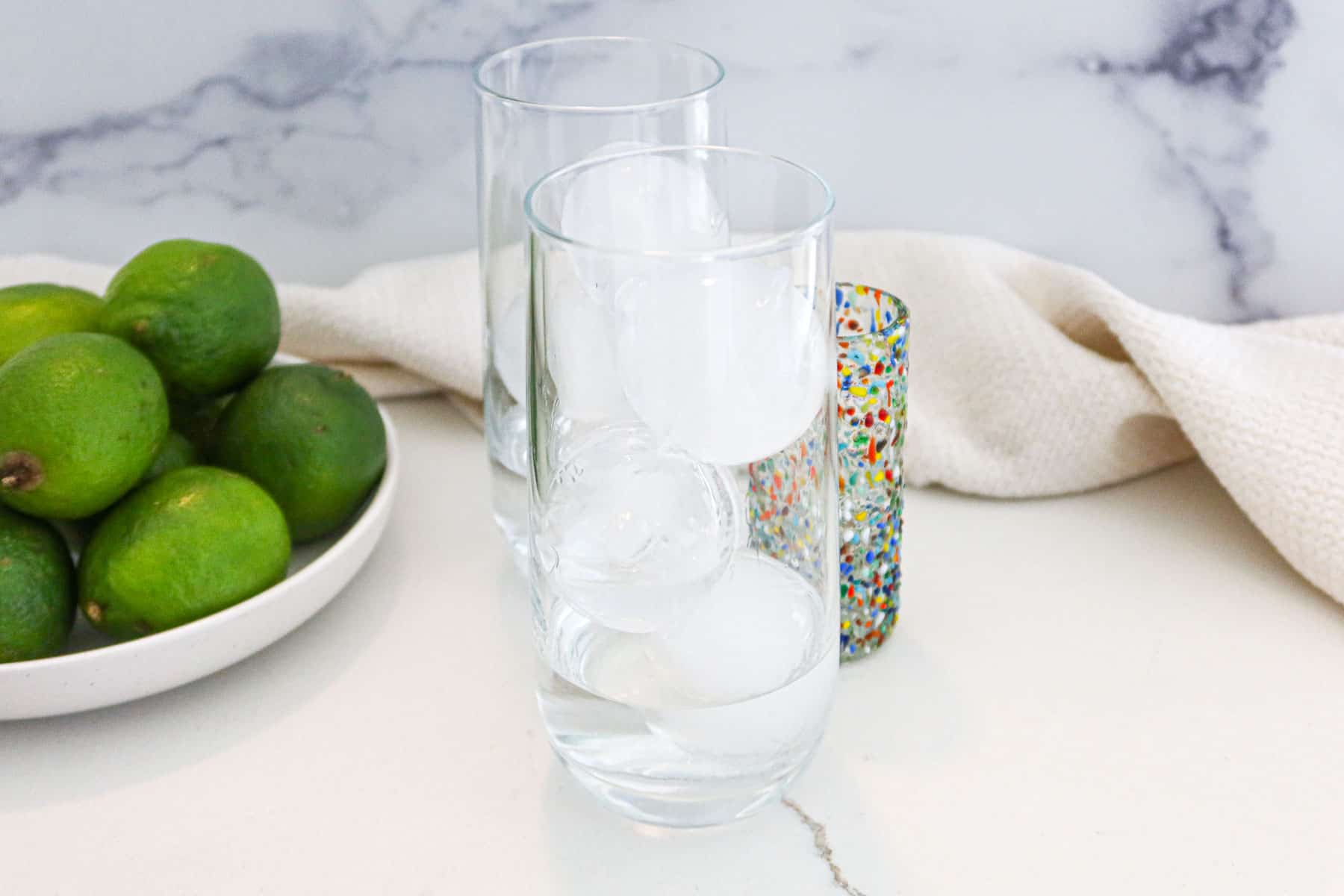 Add mixer:
Last, add your sparkling water, lime juice and a lime wedge or wheel slices.
Mix well and do a taste test to see if you like the ratio. Top with a bit more soda water and lime juice if desired. Enjoy!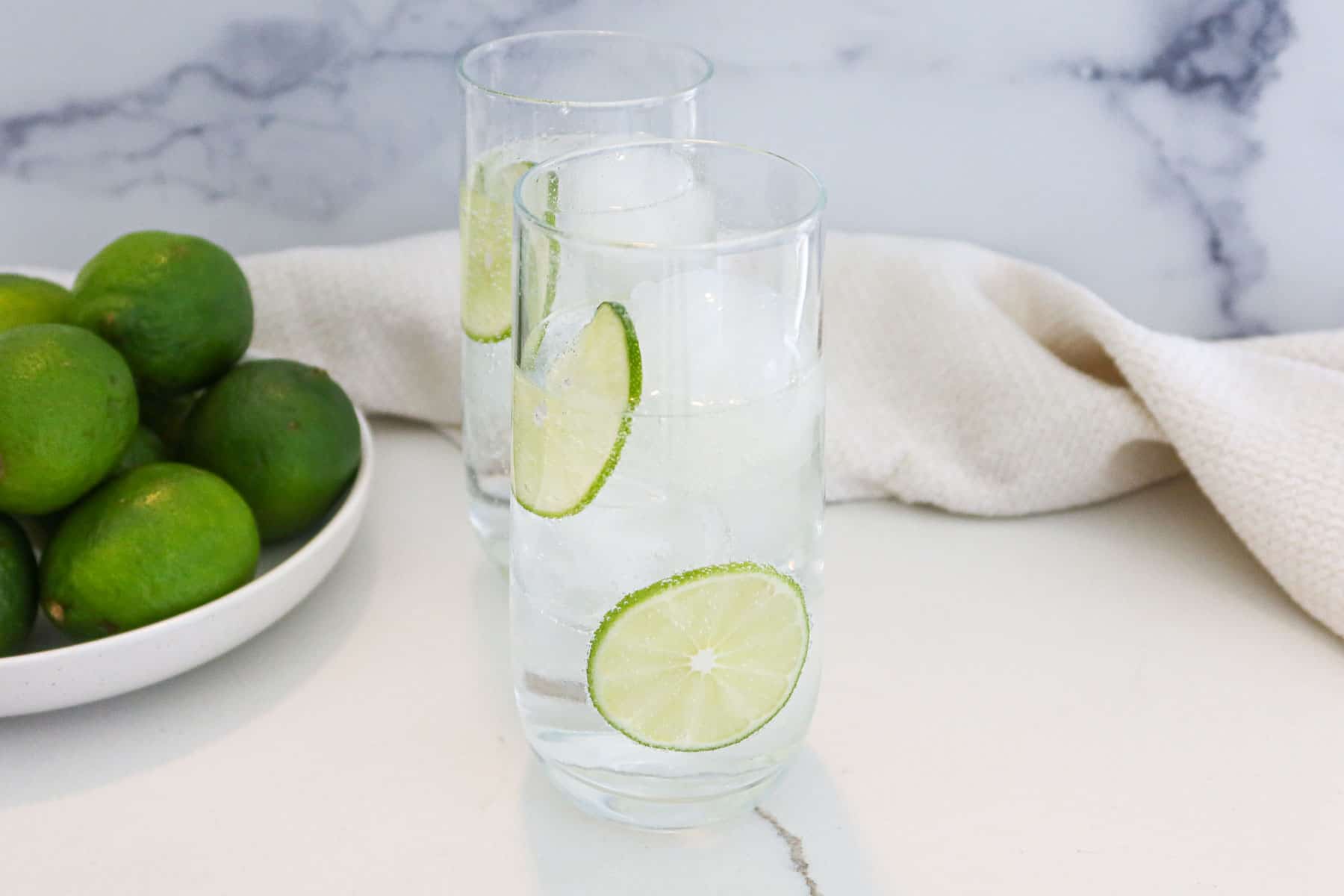 Recipe Tips
Soda stream: If you're going to be making refreshing beverages all summer long, get yourself a soda stream! It's one of the best things I own and my carbonated water supply is endlessly cheap.
Lime juice: Trouble juicing a stubborn, tough lime? Roll it around on the countertop while applying pressure with your hand to loosen things up. You can also microwave citrus for 15-20 seconds to help soften membranes for easier juicing. (source: chatelaine.com)
Seltzer: For a different vibe, use flavored seltzer water in your tequila soda!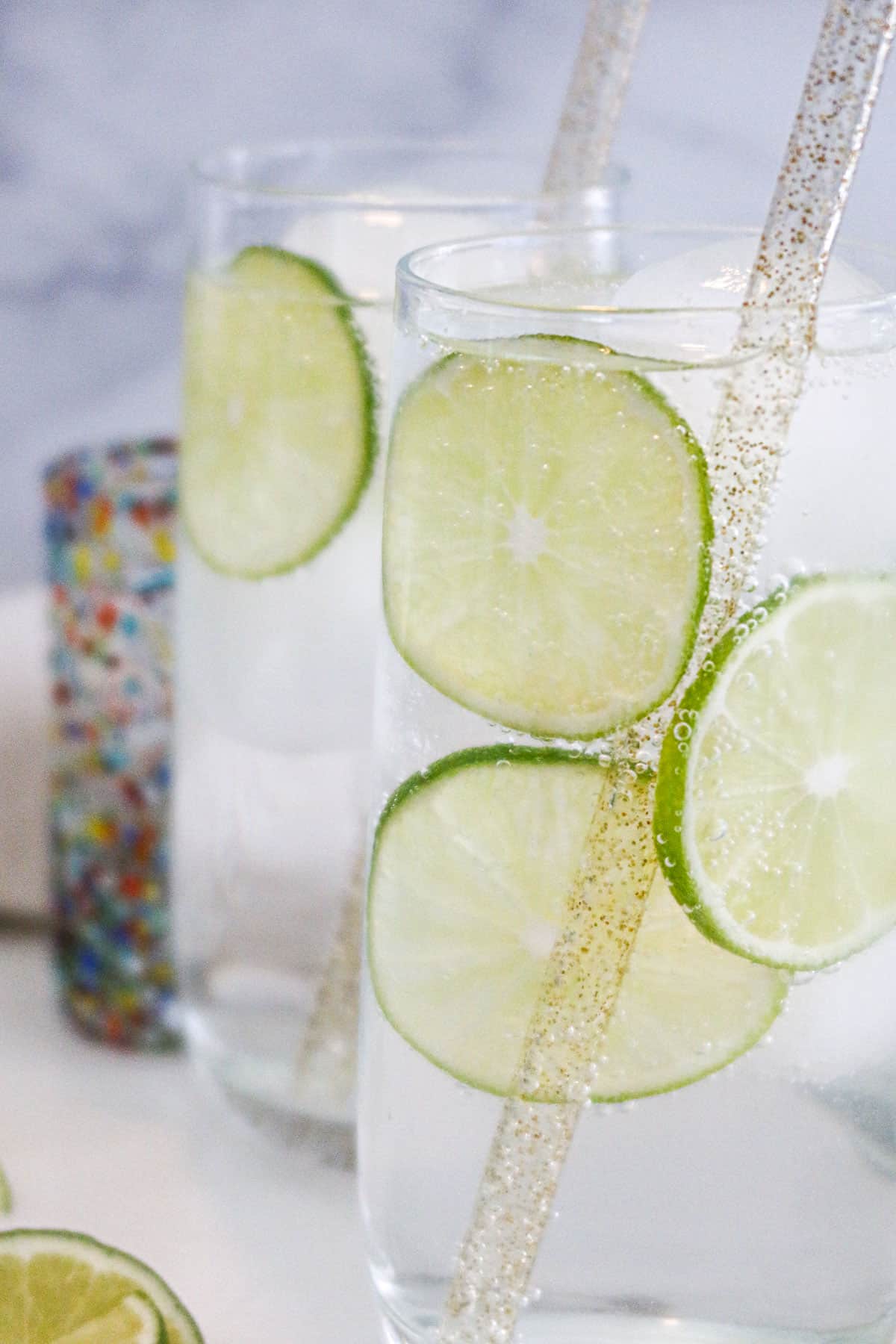 Frequently Asked Questions
What is a highball cocktail?
A highball cocktail is one spirit combined with one mixer! So basically, it's a really simple, 2-ingredient alcoholic beverage.
Is tequila good with soda?
Most certainly! Smooth tequila with sparkling soda water is super refreshing, especially when you add a hint of lime or any citrus of your choosing. Tequila mixed with soda pop is also really yummy (think Sprite or Coke).
What is tequila soda made of?
This highball cocktail is made with ice, club soda (which is simply plain carbonated/sparkling water), tequila and often lime or another citrus juice.
What does a tequila soda taste like?
Tequila soda seriously tastes like summer! But more specifically, it features light and refreshing flavors with complimentary citrus. It's a beverage in which the tequila really shines through. The alcohol isn't overpowering, but also isn't masked by excessive sugar, so the kind of tequila you use matters.
How many calories are in a tequila soda?
My tequila soda recipes calls for 1 & ½ ounces of tequila which means it's approximately 100 calories. If you add more tequila, you'll have a higher calorie cocktail!
Serve Tequila Soda With:
I really enjoying tequila soda when I make Mexican food, though it can absolutely be paired with other types of cuisine. Here are some of my favorites:
Pin it for later!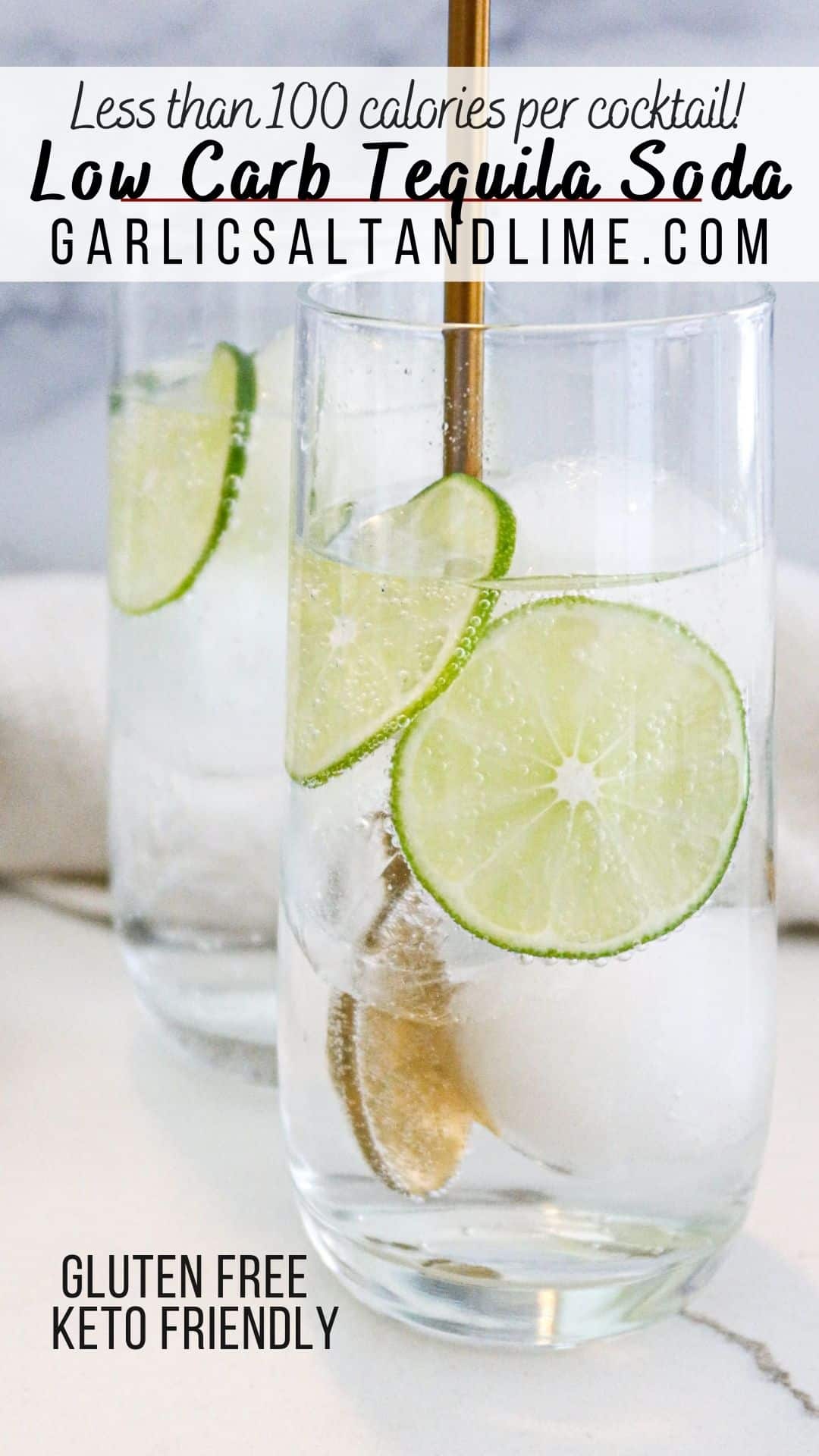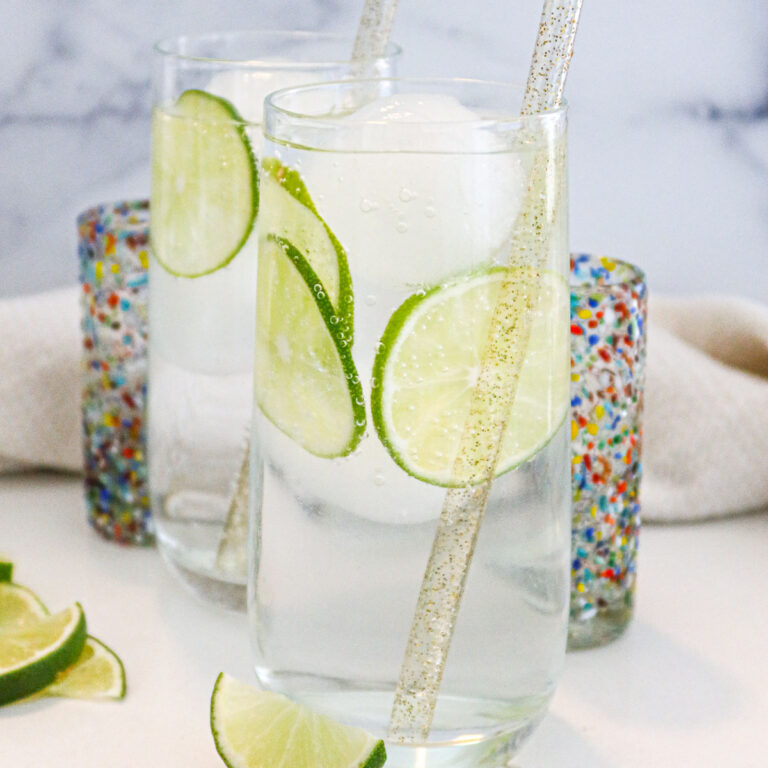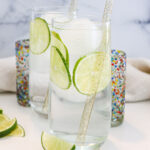 Print Recipe
Refreshing Tequila Soda
Smooth tequila mixed with sparkling club soda water and a hint of lime or citrus of choice. This delicious highball cocktail is low calorie, low carb and keto friendly.
Servings:
1
16 oz cocktail
Equipment
Cocktail glass of choice

Citrus press
Ingredients
1 & ½

ouces

tequila

*see note below

8

ouces (1 cup)

club soda

*see note below

Fresh lime juice

*to taste *see note below
Recipe notes: 
Tequila: be sure to use a quality, 100% blue agave tequila. I prefer blanco (clear/white)  and typically buy Altos Tequila Plata.
Club soda: you want to purchase club soda, not tonic water. Tonic water is much sweeter and contains added sugar. You can also make your own sparkling water if you've got a soda stream! My soda stream is one of my FAVORITE kitchen gadgets. 
Lime juice: I recommend fresh squeezed lime juice rather than bottled! Bottled can taste a little stale.
Instructions
Add ice to your favorite cocktail glass (you can salt your rim before adding ice, if desired).

Add three quarters of your soda water, lime wedges and a spritz of lime juice. Mix well.

Top with remaining soda water, taste test and add more lime juice if desired. Enjoy!
Nutrition
Serving:
1
cocktail
|
Calories:
99
kcal
|
Carbohydrates:
0.4
g
Did you make this recipe?!
Wahoo! Thank you so much for trying it out – would you leave a rating?! Simply click on the stars in the recipe card above.