Nothing is better than an icy cold, skinny margarita with a salty rim. There are a so many ways to make this tasty, keto-friendly, gluten free beverage. I like to use just five simple ingredients for a low carb, low sugar, 135 calorie treat! A good skinny margarita is the perfect beverage for so many occasions: birthdays, holidays, cookouts, barbeques, a summer night out on the deck and of course, Cinco de mayo! Want it frozen? Simply add a little more ice and pop it in the blender.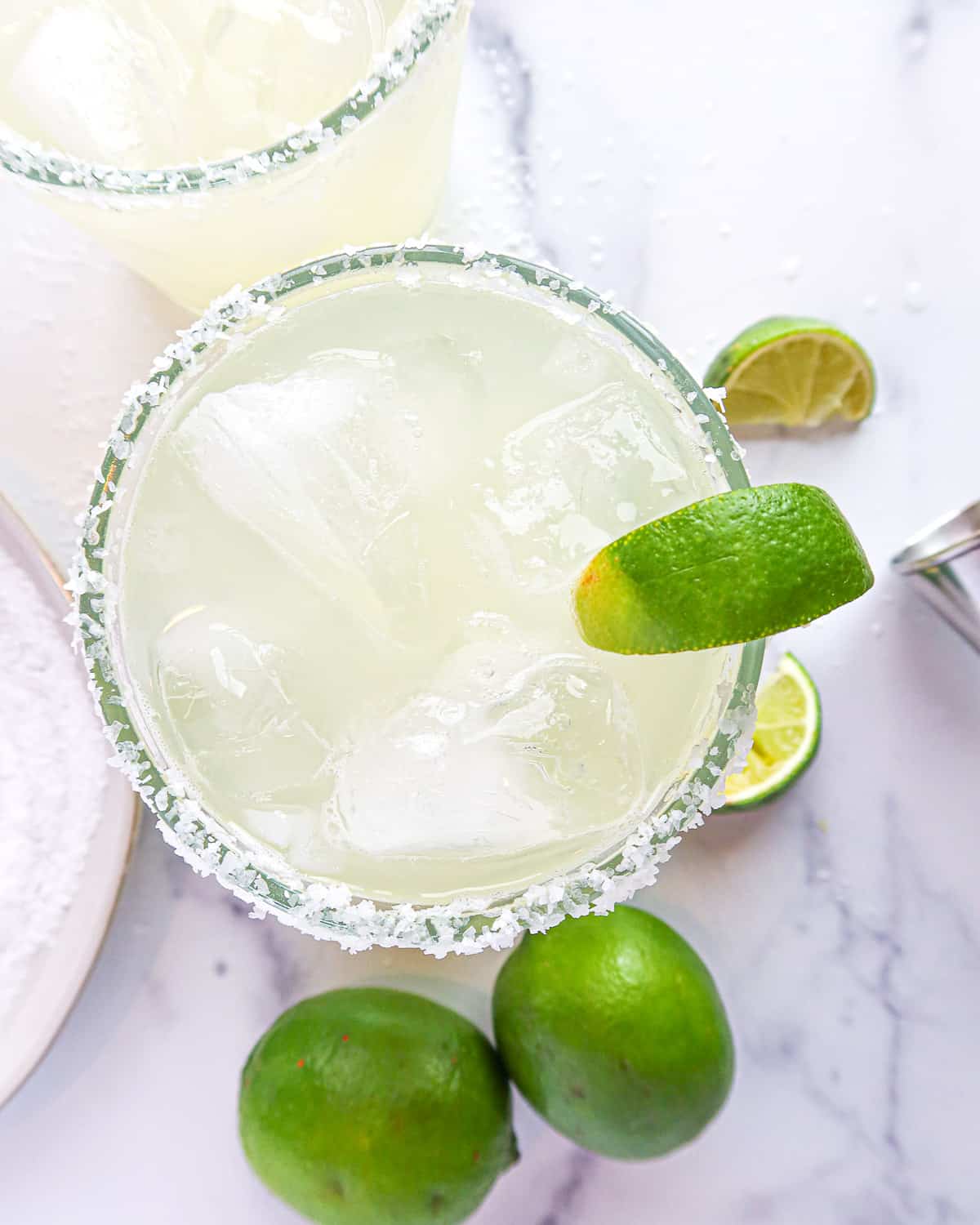 *Disclaimer: This article contains affiliate links. As an Amazon Associate, I earn from qualifying purchases.
Love a traditional house margarita, but dislike the high sugar content? I've got good news! You can enjoy a healthier version of your favorite beverage with this recipe.
It's simple and requires minimal, fresh ingredients (you won't even have to buy a special drink mix).
Plus, you can skip happy hour and save money by making the best skinny margarita right in your own home.
Looking for more homemade alcoholic beverage recipes? Check out this fun Upscale Drinks article for 7 more tasty ideas!
Jump to:
Ingredients & Substitutions
Tequila: 100% agave tequila contains zero carbs!
Lime juice: bottled will work, though I definitely recommend fresh juice - it just tastes better.
Water: plain or sparkling!
Agave syrup: you can also substitute a splash simple syrup if you don't have any agave. Just keep in mind that the goal is to avoid adding too much sugar. To reduce sugar content even further, you can choose to substitute artificial or monk fruit sweeteners.
Coarse salt: I normally use kosher salt because it's cheap and I've always got some on hand. Of course, you can buy special margarita salt if preferred.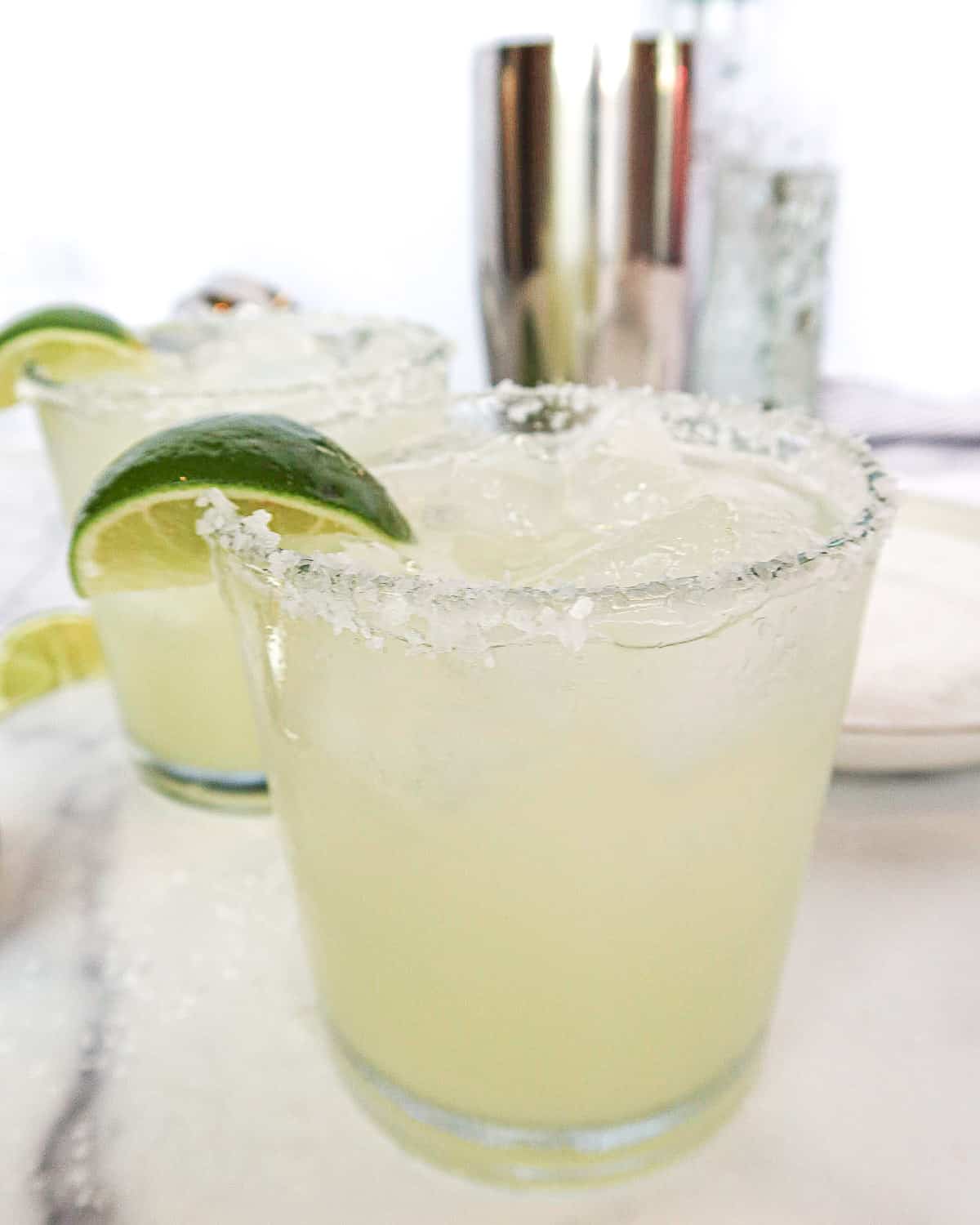 How To Make Skinny Margaritas
Keep scrolling for complete recipe card and measurements. We'll start here with a quick rundown!
Squeeze juice from four limes into a cocktail shaker and cut a fifth lime into wedges. Measure kosher/sea salt onto a small plate on into a

margarita glass rimmer

.
Run the shell of one lime around the rim of each cocktail glass, dip in salt and fill each halfway with ice.
Add tequila, water, agave and a handful of ice cubes to the cocktail shaker.
Shake for 10-20 seconds and pour over ice.
Enjoy!
Handy Tips
-If you don't have a cocktail shaker you can use two large drinking glasses to shake ingredients or stir them together in a pitcher. Cocktail shakers are very affordable, however, and I recommend purchasing one so you can make all kind of delicious drinks with ease (they're great for coffee drinks too)! This is the one I use (pictured below) and it works great.
-I typically use kosher salt when making skinny margaritas, mainly because I've almost always got a big box of it in the pantry (and it works great). But, you can buy margarita salt if you prefer! There are lots of different flavors available, a fun way to mix things up and try something new.
Variations
Feel free to get creative with this recipe and add different frozen fruits or fresh herbs to your margarita! Think strawberries, pineapple, watermelon, mango, blackberries, mint, basil and so much more.
You can also go the spicy route and add jalapeno!
If you're looking for a seasonal, fall time recipe try this apple cider margarita.
Another fun idea? If you're not worried about making your margarita vegan, you can substitute homemade hot honey for agave.
Frequently Asked Questions
What's in a skinny margarita?
There are endless ways to make a great skinny margarita! I like to use just five simple ingredients to create my delicious concoction: good tequila, fresh lime juice, water, blue agave nectar and salt! Some recipes call for club soda instead of water. If you want a sugar free margarita you can use a bit of stevia, monk fruit sweetener or sugar free agave!
How many calories are in a skinny margarita?
The number of calories in your skinny margarita will depend on it's ingredients. This skinny margarita recipe has approximately 135 calories per drink! I use agave nectar to sweeten my margs. If you want less calories and almost zero sugar, consider a sweeter like stevia, monk fruit or sugar free agave.
What is the best tequila for a skinny marg?
A good, high quality tequila is an important part of making a skinny margarita. Cheap tequila is going to have fillers that add more calories. Pure agave tequila has less calories and zero carbs due to the distillation process (it also offers better flavor which is important since a skinny margarita won't mask the taste of cheap tequila with sugar)! I usually go for a middle of the road tequila. I'm not trying to pay $60.00 for a bottle, but I will pay $25.00 to $30.00!
Are skinny margaritas keto?
Skinny margaritas are one of the best cocktails to drink if you are following a keto diet since pure agave tequila doesn't contain carbs. Lime juice and agave nectar do have some carbohydrates so if you're strictly following a keto diet, you may want to consider subbing half of your lime juice for club soda or a lime flavored seltzer water. You can also cut down on carbs even further by using a sugar free sweetener.
Skinny VS. regular - What makes a margarita skinny?
Essentially - way less sugar! A regular, classic margarita is full of added sugar and typically much sweeter tasting. A skinny margarita is lightly sweetened and features more lime and tequila flavors (which I personally enjoy much more)!
Pin it for later!
What To Eat With Skinny Margaritas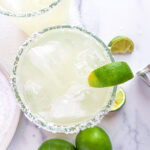 Print Recipe
Classic Skinny Margarita Recipe (Just 5 Ingredients)!
Nothing is better than an icy cold, skinny margarita on a warm day. Smooth tequila mixed with lime juice, agave nectar & water, poured over ice in a salted cocktail glass. Yum! Gluten free, keto-friendly, vegan and perfect for all kinds of occasions.
Servings:
2
,12 oz. cocktails
Equipment
Cocktail shaker

Citrus press
Ingredients
3

oz

tequila blanco

*white tequila *see note below

5

limes

¼

cup

water

2

teaspoons

agave nectar

*see note below

½

cup

kosher salt

*see note below
Recipe notes:
Tequila blanco: for a good skinny margarita, it's important to purchase a decent tequila. In a regular margarita, the quality of tequila doesn't matter as much because flavor is masked by sugar. However, a skinny margarita is going to highlight your tequila selection much more! I recommend a nice, middle of the road tequila blanco (white/clear). You don't need to go top shelf and pay $60.00, but I recommend spending $25.00 to $30.00!
Agave nectar: want to cut down on calories and carbs even more? Consider using sugar free agave, stevia or monk fruit sweetener. If you use an artificial sweetener, each cocktail will have have approximately 120 calories, 7 grams of carbs and .5 grams of sugar!
Kosher salt: you can use sea salt or margarita salt if you prefer! I normally use kosher salt, mainly because I almost always have it readily on hand and it works wonderfully. 
Want it frozen? Simply add all ingredients and ice to a blender rather than a cocktail shaker. Blend until smooth and pour into salted glasses. 
Instructions
Use a citrus press to squeeze the juice from four limes into a cocktail shaker and cut your 5th lime into wedges for garnishing cocktail glasses.

Run the shell of juiced lime around the rim of two 12 ounce cocktail glasses and dip in salt. (*Tip: I recommend using the shell of a juiced lime rather than a wedge. A shell will wet the rim nicely but a wedge tends to drip down the side of the glass).

Fill each salted glass about halfway full of ice and garnish with a lime wedge.

Add tequila, agave, water and a handful of ice to your cocktail shaker. Shake for 15-20 seconds.

Pour mixture into each cocktail glass and enjoy!
Nutrition
Serving:
1
, 12 oz cocktail
|
Sugar:
6.5
g
|
Calories:
135
kcal
|
Carbohydrates:
11.5
g
Did you make this recipe?!
Wahoo! Thank you so much for trying it out – would you leave a rating?! Simply click on the stars in the recipe card above.