Protein coffee, also known as #proffee, is all the rage on TikTok these days and I'm totally here for it! This tasty, caffeinated beverage is a fantastic way to add extra protein to your diet, which will help keep you full.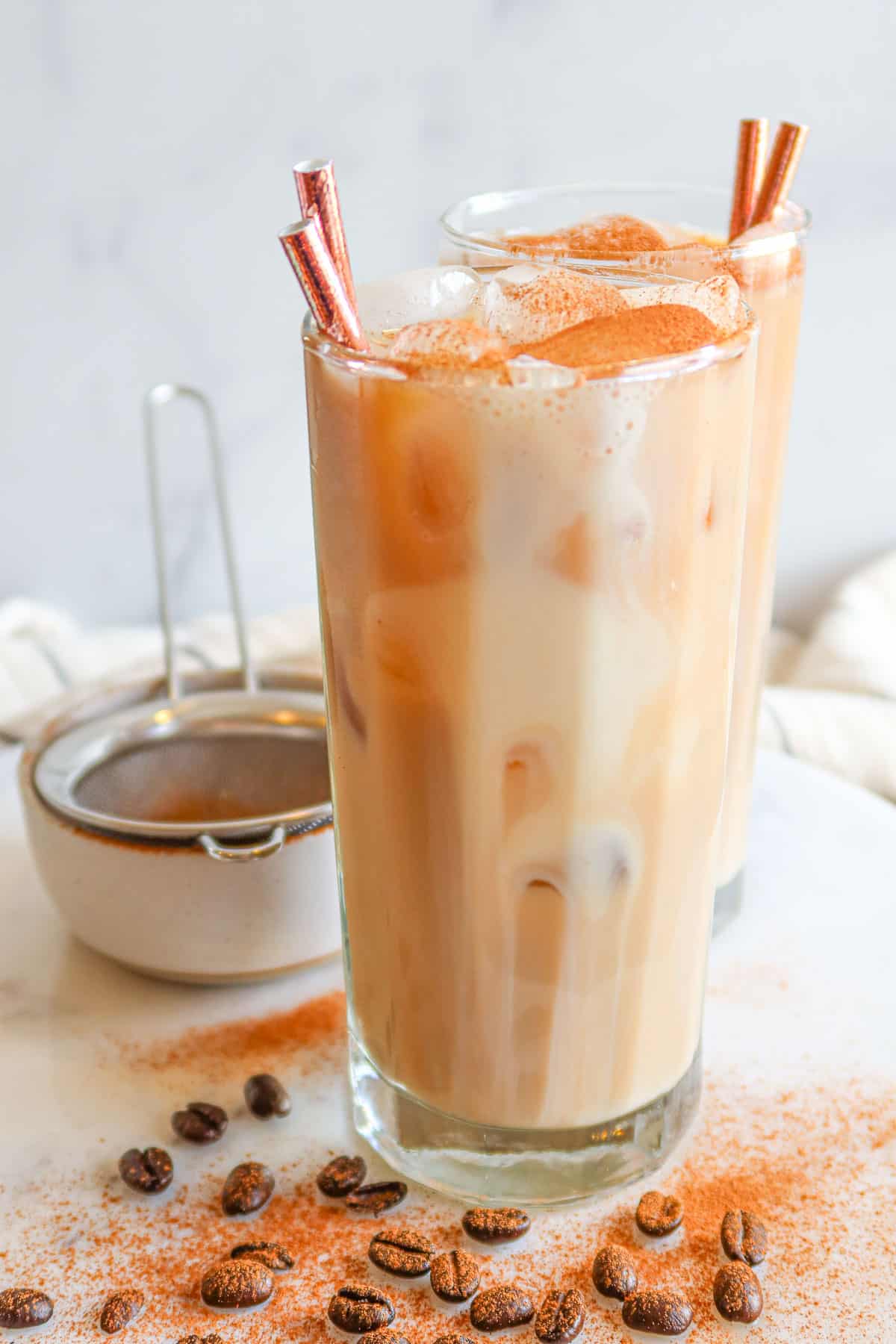 Disclaimer: This article contains affiliate links. As an Amazon Associate, I earn from qualifying purchases.
If you need an easy, healthy, make ahead breakfast or caffeine boost when that afternoon slump begins to loom, this is the best beverage for you.
Another benefit? Proffee is generally low carb and keto friendly (depending on the protein shake or powder you select)! Plus, it's made with just a couple of simple ingredients.
And if you need more high protein breakfast ideas, check out my amazing Ham & Cheese Quiche Cups, this Greek Yogurt Breakfast Bowl, Protein Porridge or my Strawberry Chocolate & Banana Protein Smoothie!
Jump to:
So What Is Protein Coffee (Proffee)?
It's right there in the name! This delicious treat is made with your morning coffee and a protein shake mixed together. You can make it iced or hot, though on TikTok you'll generally see proffee made with a bottled protein shake and cold coffee. Some also like to add flavored creamer, oat milk, soy milk, unsweetened almond milk, syrups, sauces or whipped topping (often sugar free).
Ingredients For Protein Coffee
Coffee

: use whichever type you prefer. Cold brew, iced coffee or shots of espresso over ice are all great options! My favorite is cold brew (you can make your own, buy it on Amazon, or pick some up at the grocery store. It's usually close to the coffee creamers).

Protein

: bottled protein shakes are most commonly used in proffee (at least when it comes to TikTok), but you can also use your favorite protein powder! I love using chocolate and caramel flavors.
How To Make Protein Coffee
Making protein coffee is super easy! Simply add ice to a glass, then add your coffee. Next you'll add your protein shake. Now stir it all up and there you have it - add syrups, sauces, creamers, whip cream or spices (like cinnamon or nutmeg) if desired.
Hot Proffee Instructions
If there's a chill in the air and you'd rather make a hot drink, it's easy to adjust this recipe. Instead of a bottled protein shake, I would suggest using protein powder (to help keep your drink warm)!
Brew your favorite roast and pour coffee into a mug. Add a scoop of protein powder, then use a milk frother to combine until the protein powder dissolves. I prefer chocolate protein powder but you can use any flavor you like.
Add mix-ins or toppings if desired and enjoy your delicious drink (it tastes kind of like a latte when made this way)!
Can I Mix Protein Powder In Cold Coffee?
Yes! You don't necessarily have to go out and buy bottled shakes to make an iced protein coffee, utilize the powder you've already got on hand. Before adding protein powder to cold coffee, use a milk frother or shaker bottle to combine it with a bit of milk or cream (dairy or non-dairy) to help prevent clumping.
Protein Coffee Add Ins And Toppings
Flavored syrup or creamer: caramel or vanilla are both tasty! And I'll let you in on a little secret, if you ask the barista at your local Starbucks to sell you a bottle of syrup, they'll usually be able to (sadly they can't sell their thicker sauces).
Flavored sauce: a thicker caramel or chocolate sauce can be used as a tasty drizzle. Add it to the sides of your cup or just drizzle on top.
Whipped topping: a swirl of whip cream is always a good idea, right?! (use light or regular)!
Froth or foam: use a

frother

to make some extra foam as a topping for your proffee.
Spices: cinnamon, nutmeg, allspice or pumpkin pie spice are all amazing. Tons of flavor without the extra calories!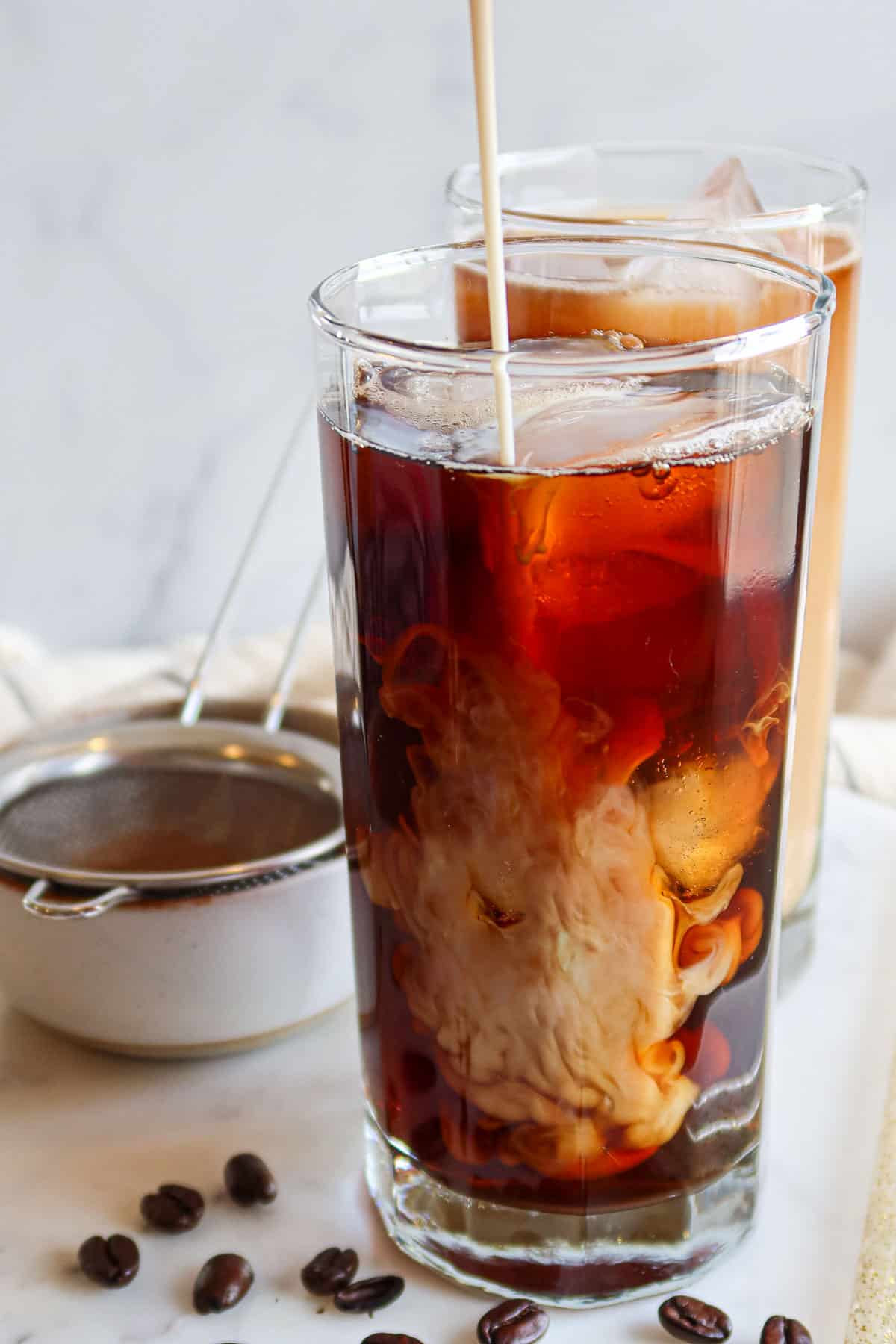 Expert Tips For This Recipe
Coffee

: don't pour hot brewed coffee over ice, this won't taste great and your drink will get really watery. Shots of espresso over ice are okay because you're using a LOT of ice and very little espresso (and espresso is super strong). I would highly recommend using cold brew coffee, it tastes best in my opinion!

Have fun

: you can get so creative with this recipe! Feel free to try all kinds of different flavors, add ins and toppings. The possibilities are endless.

Coffee ice cubes

: plan ahead and make some coffee ice cubes to use in your drink! That way when your ice begins to melt, your coffee won't get watered down.
Can I Order Proffee At Starbucks?
Starbucks doesn't have protein coffee on the menu. What you can do is order a doubleshot of espresso over ice in a venti cup (or a tall cold brew/iced coffee in a venti cup). Once you get the coffee, add protein!
Is Protein Coffee Healthy?
In general, protein coffee is pretty healthy and low calorie! Plus, it's such a great way to include extra grams of protein in you diet.
However, It all depends on what you put in your coffee. There are a lot of protein powders out there, I tend to look for brands that are low in added sugar and use less processed ingredients.
And of course you can add tons of calories by going overboard with syrups and sauces! Everything in moderation.
What Protein Should I Use?
With so many different protein powders and shakes on the market, I recommend you do a little bit of research to figure out which is best for you! Here are two, excellent articles that detail the pros and cons of different powders and shakes:
There are truly so many options out there including vegan or plant-based protein powder and shakes.
Pin it for later!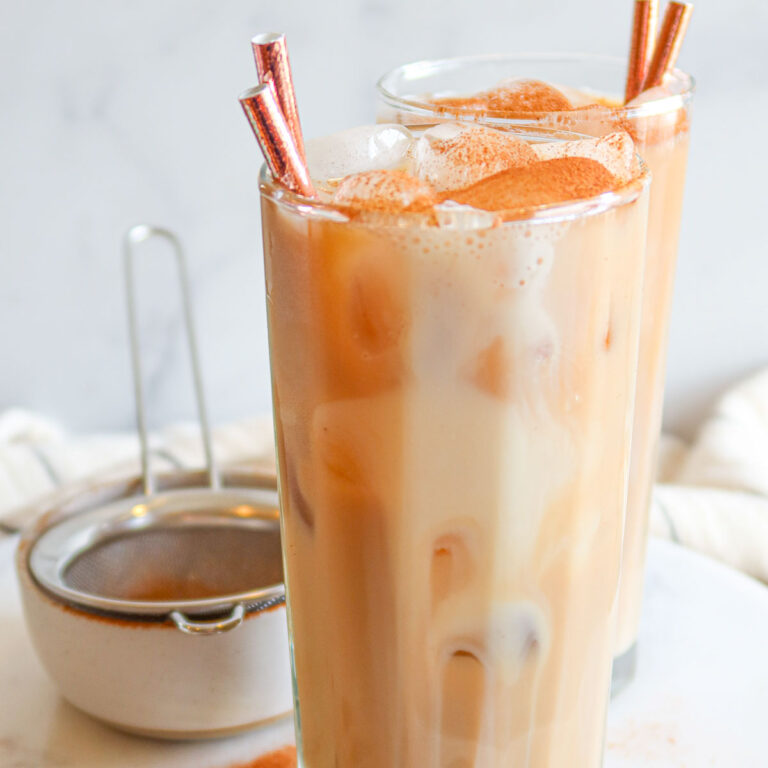 Print Recipe
Protein Coffee Recipe (Proffee)!
Protein shake or protein powder mixed into a cup of coffee for a high protein, low carb breakfast or afternoon treat.
Equipment
One 24 ounce tumbler

*see note below
Ingredients
1

cup (8 ounces)

cold brew coffee

*see note below

1

protein shake

*see note below
Optional add ins/toppings:
Coffee syrups, sauces, whip cream, froth/foam, or spices (cinnamon, nutmeg or pumpkin pie spice are all yummy)!
Recipe notes:
24 Oz Tumbler: this tumbler is perfect for proffee on the go! You can also halve this recipe and use two 16 ounce tumblers or drinking glasses for a smaller drink. 
Coffee: make your own cold brew, buy it on Amazon or get it at the grocery store (look near the coffee creamers). You can also use iced coffee or 1-2 shots of espresso over ice. Let hot brewed coffee cool completely before pouring it over ice if you go this route, I also suggest making it extra strong. (*Note: because espresso shots are small and super strong, pouring them over ice when they're hot shouldn't negatively affect the flavor of your drink).  
Protein: for simplicities sake, I'm using an OWYN brand dark chocolate protein shake here. You can use any protein you like though, and I recommend doing a little research before choosing one that's right for you! 
Instructions
Fill a 24 ounce tumbler halfway with ice (or halve the recipe and use two, 16 ounce glasses).

Pour cold brew coffee over ice.

Add protein shake to the tumbler and mix. (*Note, if you're using protein powder instead of a bottled shake, I recommend using a milk frother or shaker bottle to combine the powder with a little milk or cream before adding it to your coffee. This will help to prevent clumping).

Add desired syrups, sauces, creamers, whip topping or spices (like cinnamon or nutmeg) and enjoy!
Hot Proffee:
I suggest using protein powder in hot protein coffee (to help keep your drink warm)! Pour coffee into a mug, add a scoop of protein powder and use a milk frother to combine. Use add ins or toppings if desired!
Nutrition
Serving:
1
- 24 ounce proffee drink (values are approximate and will vary widely depending on protein selection and any mixins or toppings you might add).
|
Sugar:
4
g
|
Fiber:
5
g
|
Calories:
190
kcal
|
Fat:
7
g
|
Protein:
20
g
|
Carbohydrates:
12
g
Did you make this recipe?!
Wahoo! Thank you so much for trying it out –would you leave a rating?! Simply click on the stars in the recipe card above.