Back in mid-August I posted my Pumpkin Zucchini Muffins recipe which uses only part of a 15 oz can of pumpkin puree. If you're looking to use up your extra pumpkin puree, or just looking for another fantastic fall recipe, you've come to the right place! If you still have some pumpkin puree left after making these tasty pancakes, I'd highly suggest taking a look at my Sweet Pumpkin Spice Sauce recipe, which can be used to drizzle on top of all kinds of treats (including these pancakes - see photo below) or mixed with coffee/espresso resulting in a heavenly autumn beverage.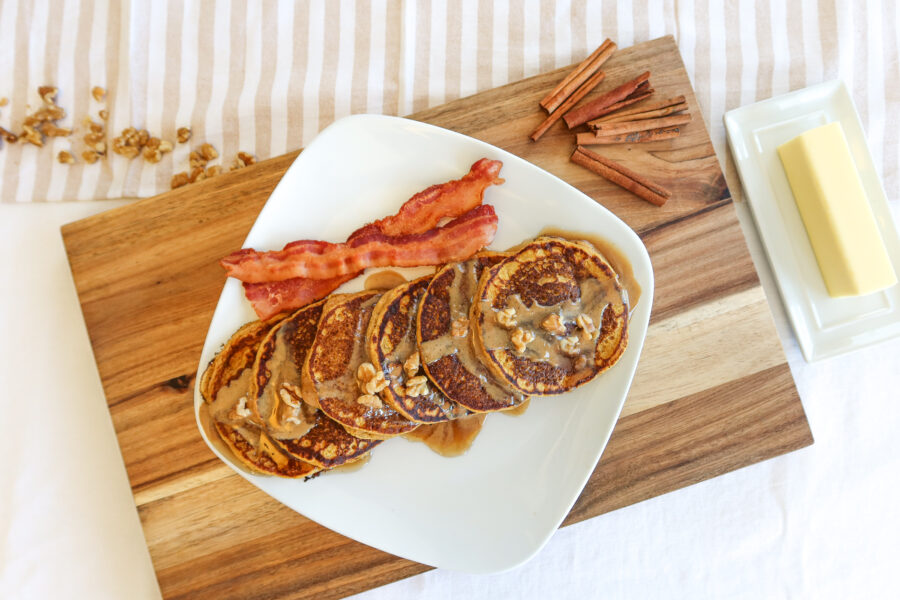 Ingredients:
1 cup flour
½ teaspoon cloves
½ teaspoon cinnamon
½ teaspoon nutmeg
¼ teaspoon salt
3 tablespoons sugar
1 teaspoon baking powder
2 eggs, separated
1 & ⅓ cups nonfat milk
1 teaspoon vanilla extract
½ cup pumpkin puree
¼ coconut oil, melted
Instructions:
Step 1: Wisk flour, spices, salt, sugar & baking powder together in a large mixing bowl.
Step 2: Crack eggs and carefully separate yolks from whites. Place yolks in a separate, medium sized mixing bowl. Place egg whites in a small mixing bowl and set them aside.
Step 3: In the mixing bowl with the egg yolks, add nonfat milk, vanilla extract, pumpkin puree and melted coconut oil. Wisk all ingredients together.
Step 4: Pour wet ingredients into dry ingredients and stir until just combined, do not over mix.
Step 5: Coat a frying pan with a little bit of non-stick cooking spray and place on the stove top, turn heat to medium low. Allow your pan to heat for 5-10 minutes.
Step 6: While waiting for you pan to heat up, use a hand held electric mixer to beat egg whites until stiff. Add stiff egg whites to the mixing bowl and fold them into the batter. Be careful not to over mix your batter. It should be a little lumpy, see photo below for reference.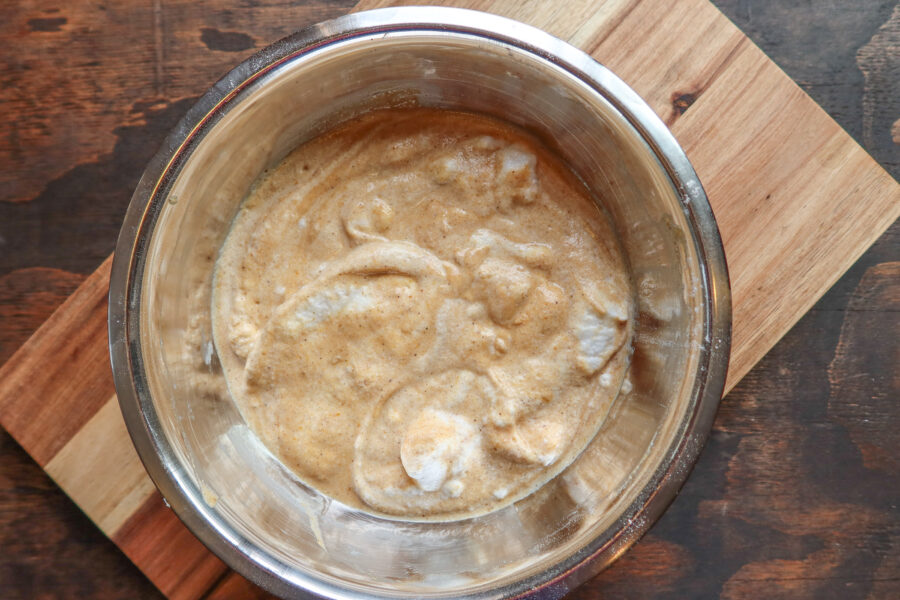 Step 7: Use a measuring cup to portion pancake batter onto the hot pan (I like to use ⅓ cup of batter per pancake which results in around 15 total). Once the batter starts to bubble a little bit, flip the pancake. Allow the other side to cook for about a minute and then remove the pancake from the heat. Repeat this process until all batter has been cooked.
Step 8: Add desired toppings to your pancakes. I prefer to top mine with butter, Sweet Pumpkin Spice Sauce, a little bit of maple syrup and walnuts. Enjoy!