No bake oatmeal raisin cookies are super simple and easy to make! They're perfect as a healthy dessert, snack or even breakfast (especially when paired with a big cup of coffee). They come together in 20 minutes or less and require only 6 simple ingredients. And you'd never know it but they're even gluten free, nut free, dairy free, vegan and refined sugar free.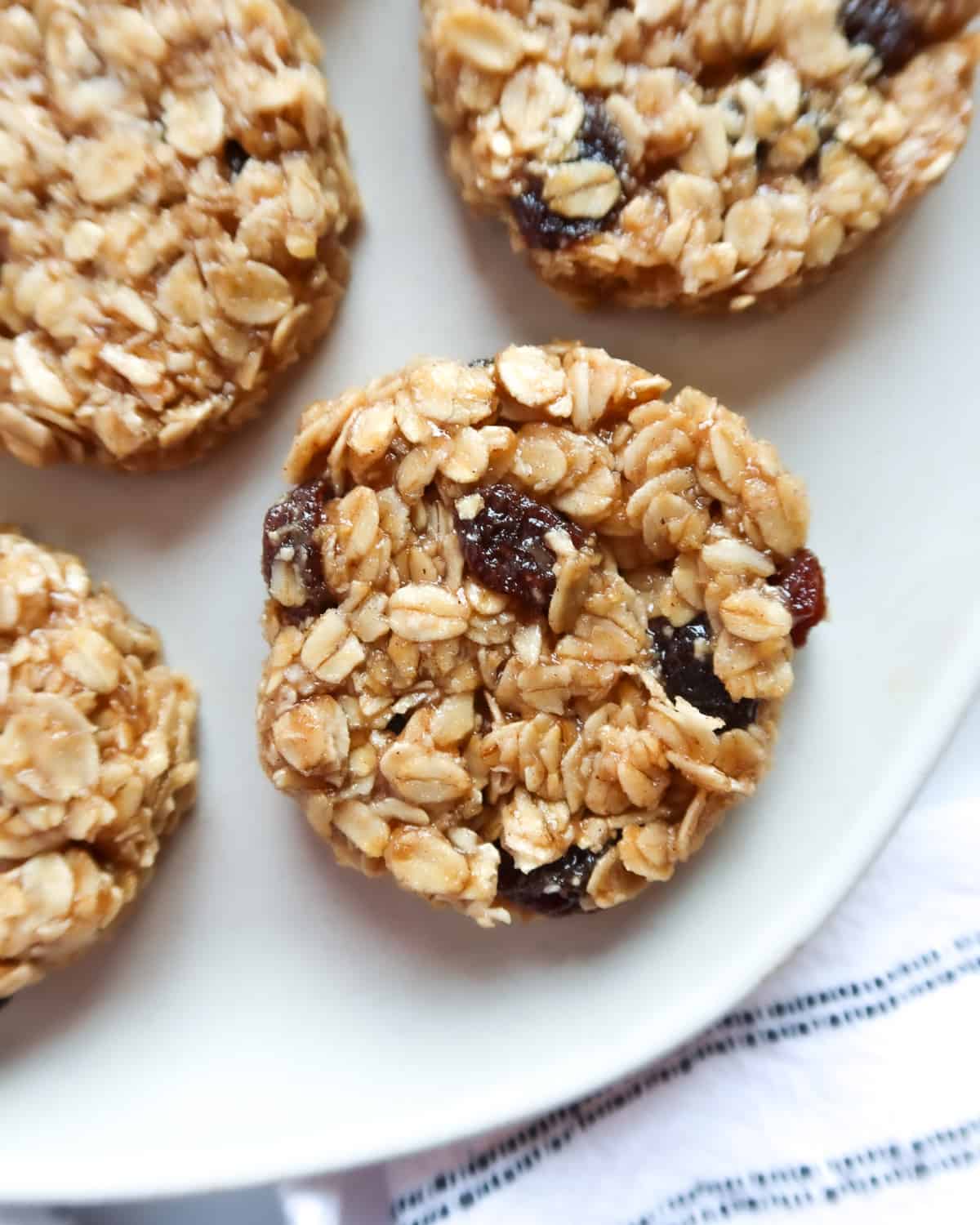 *Disclaimer: This article may contain affiliate links. As an Amazon Associate, I earn from qualifying purchases.
I love including this easy recipe in my meal prep and planning because these soft oatmeal raisin cookies make the perfect healthy breakfast or snack food.
Make a batch (or two) and store them in the refrigerator or freezer for the best, grab and go sweet treat all week long.
If you're looking for some more quick, to-go breakfast/snack ideas, you might also like these super yummy recipes:
Jump to:
Ingredients & Substitutions
Whole grain oats: old-fashioned oats are healthy, hearty and filling! Quick oats will also work in a pinch.
Tahini: yummy sesame paste allows ingredients to stick together. Also, using tahini makes for a nut-free cookie! Sunflower butter is a another good nut free option. You can substitute almond butter (or any other nut butter) if you're not worried about making your cookies nut free.
Agave nectar: maple syrup or sugar free agave are tasty alternatives. You can also use honey if you're not worried about keeping this recipe vegan.
Cinnamon: for additional, delicious flavor! Cinnamon and tahini pair very nicely together.
Raisins: the sweet, delicious star of the show in this recipe.
Water: a little water helps to moisten oats so they can be formed into cookies more easily!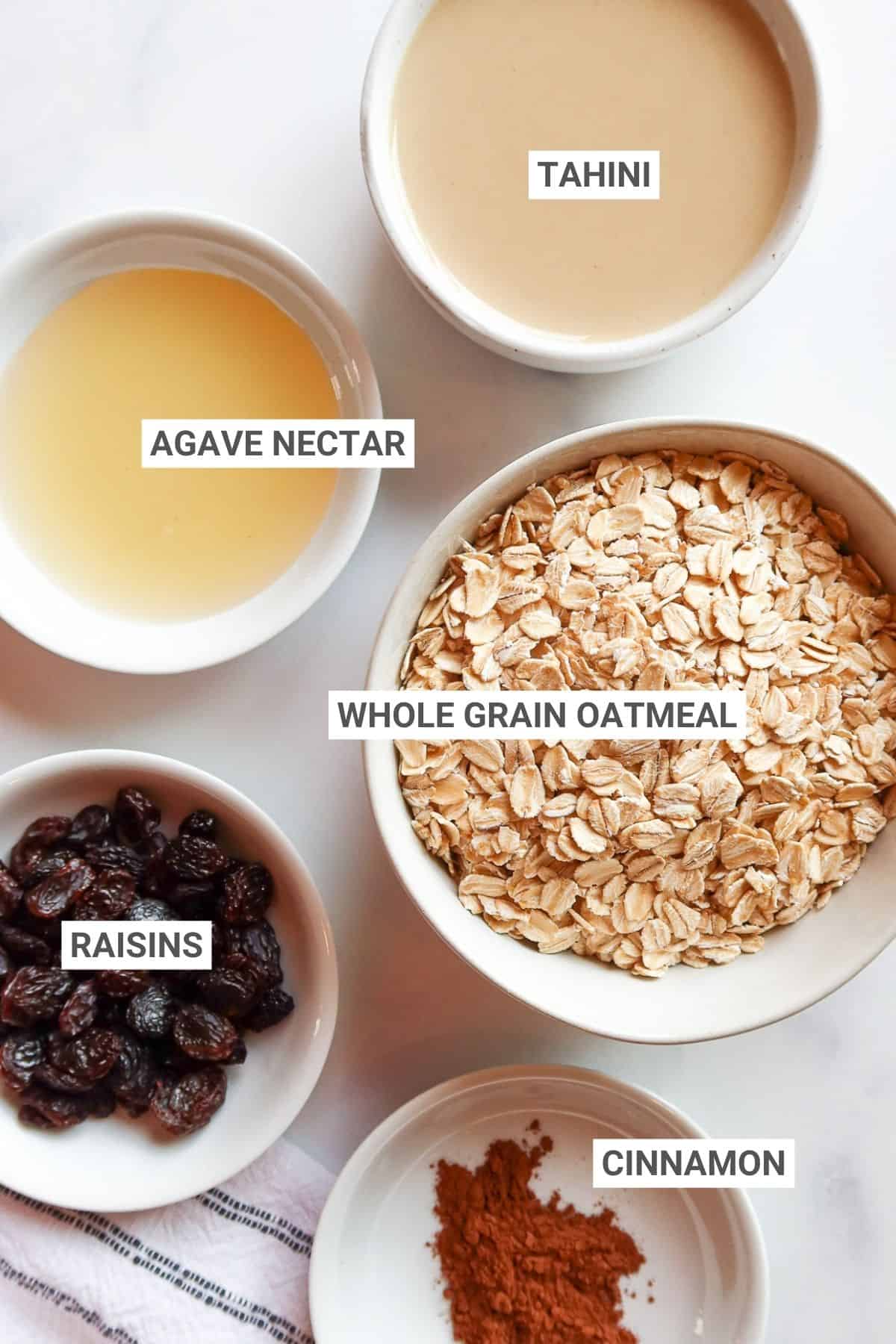 How To Make Oatmeal Raisin No Bake Cookies
We'll start here with a brief overview! Keep scrolling for the full recipe card and measurements.
Combine ingredients:
Combine all ingredients, except for water, in a large bowl and stir well. Add water and stir again.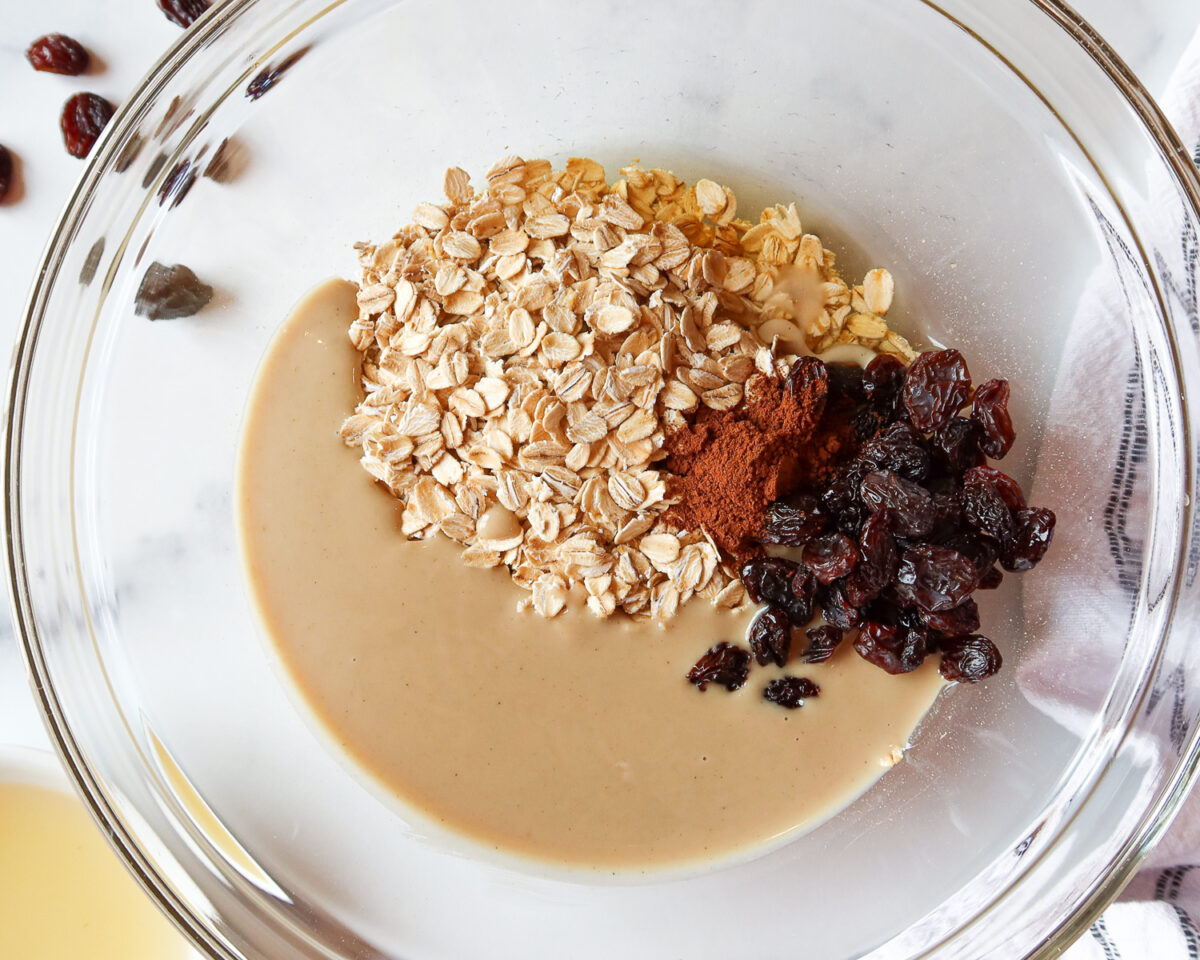 Rest:
Allow batter to sit/rest in the bowl for 5-10 minutes.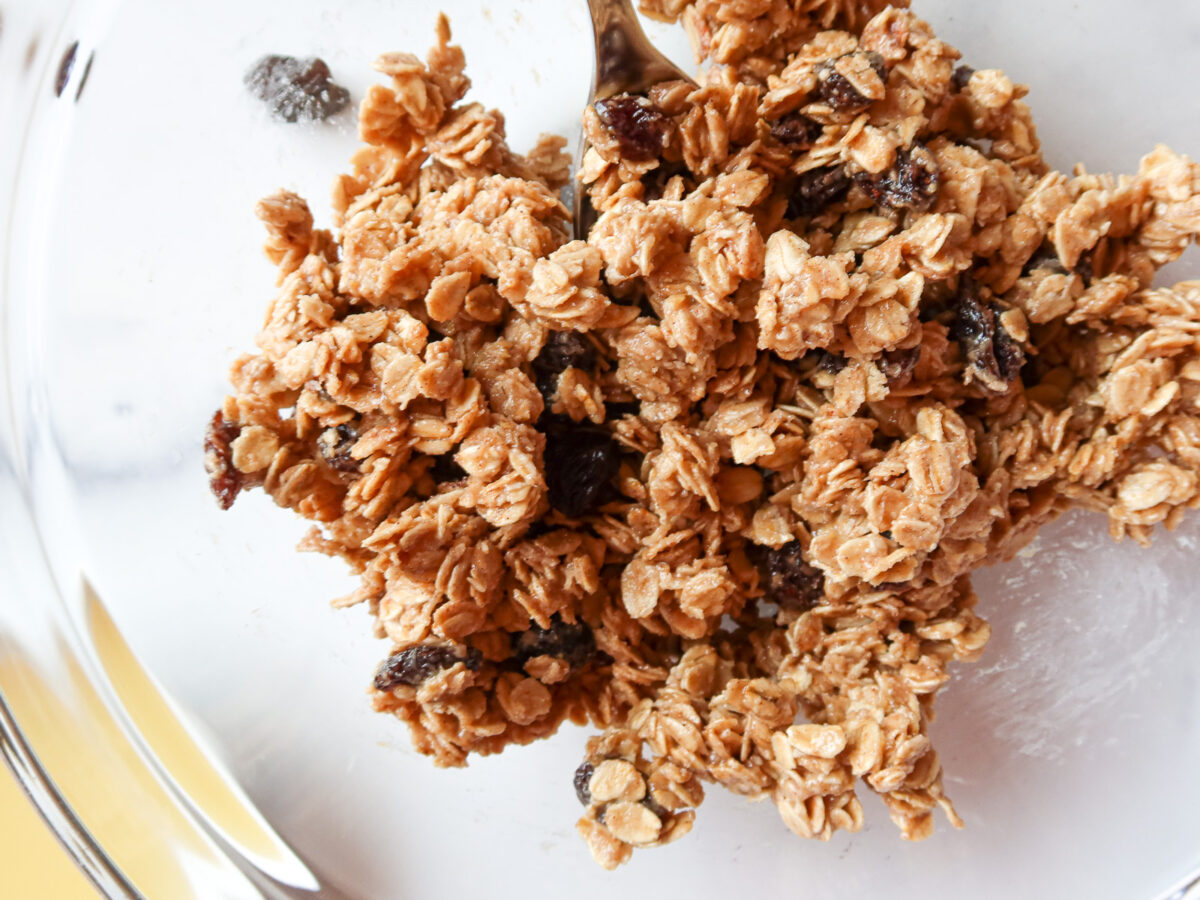 Scoop and shape:
Use a cookie scoop or measuring spoon to create 2 tablespoon sized balls of dough.
Press and rotate balls until you've formed the desired cookie shape.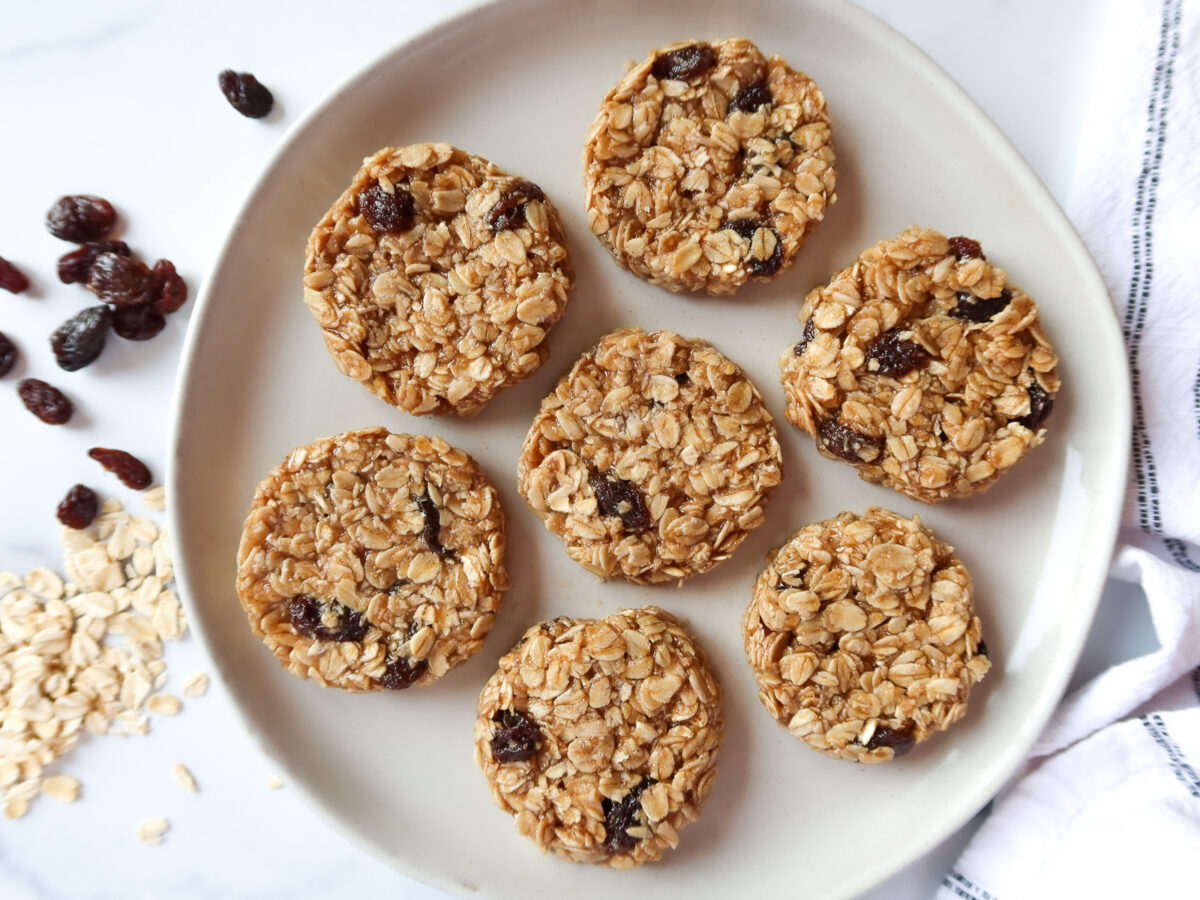 Serve:
Chill cookies in the freezer or refrigerator, or enjoy right away

.
Tip: I love adding a bit of extra ground cinnamon to my cookies when I eat them. So good!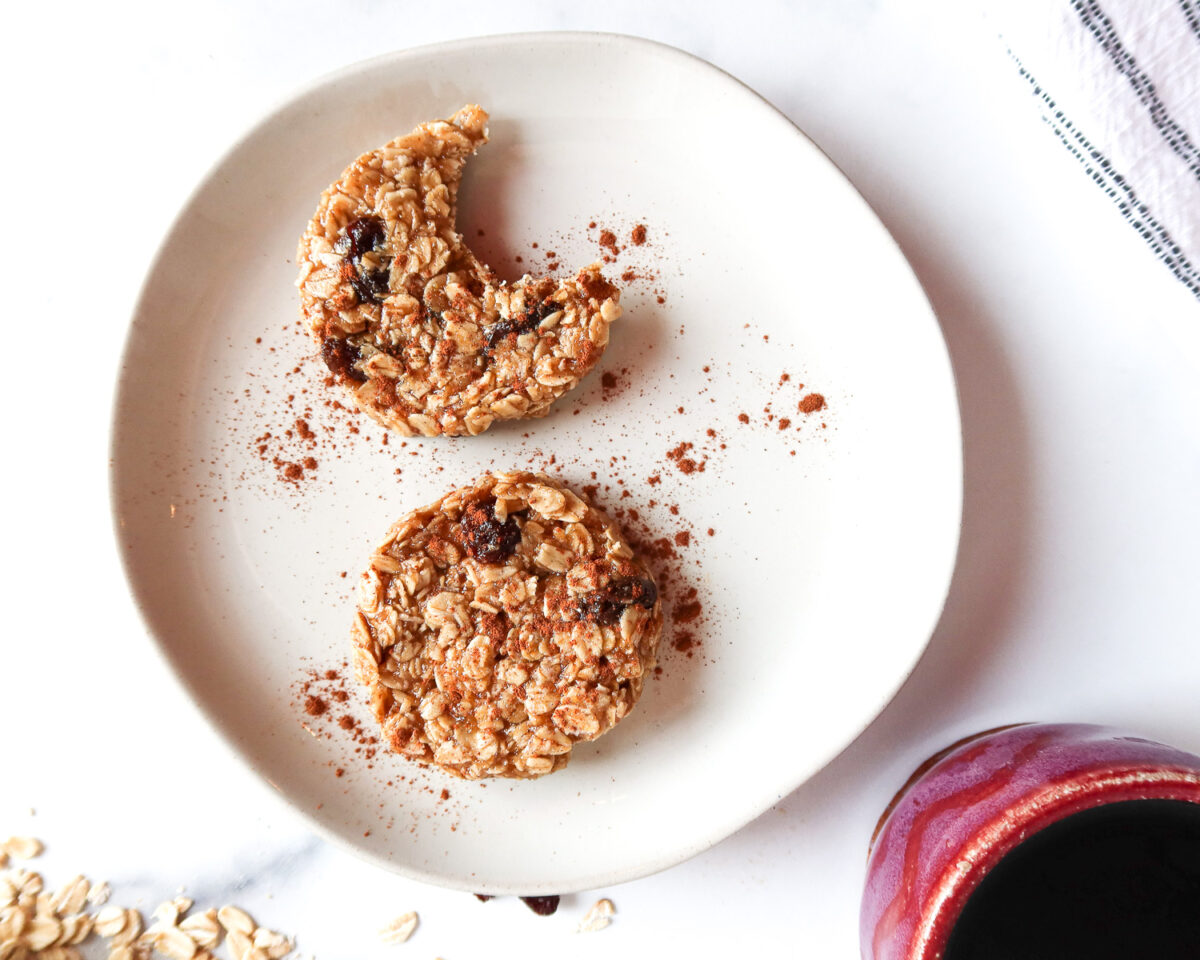 Expert Tips
When forming cookies, your hands may get a little sticky from the dough! This can make it quite difficult to shape them correctly. Simply take a moment and rinse your hands to remove the majority of stuck ingredients. This will get you moving again.
Keep in mind that you can shape your dough any way you want! You can makes balls or bites instead of cookies. Another fun option? Press dough into a parchment lined baking sheet, freeze and then cut into into squares or rectangles.
I really love sprinkling a little additional cinnamon on top of my cookies before eating. I highly recommend, it's SO TASTY!
Variations
This cookie recipe is very flexible. You can try lots of different mix-ins. Here are some ideas!
Different spices (a little dusting of nutmeg, perhaps).
Chopped pecans or walnuts (as long as your not worried about keeping your recipe nut free)!
Dark chocolate chips (dairy free to keep your recipe vegan, if desired).
Coconut flakes
Chia seeds
Golden raisins
Storage Instructions
Place your oatmeal raisin breakfast cookies in an airtight container and keep in the refrigerator for up to 2 weeks. Or, you can store your cookies frozen in a container or freezer bag for up to 2 months!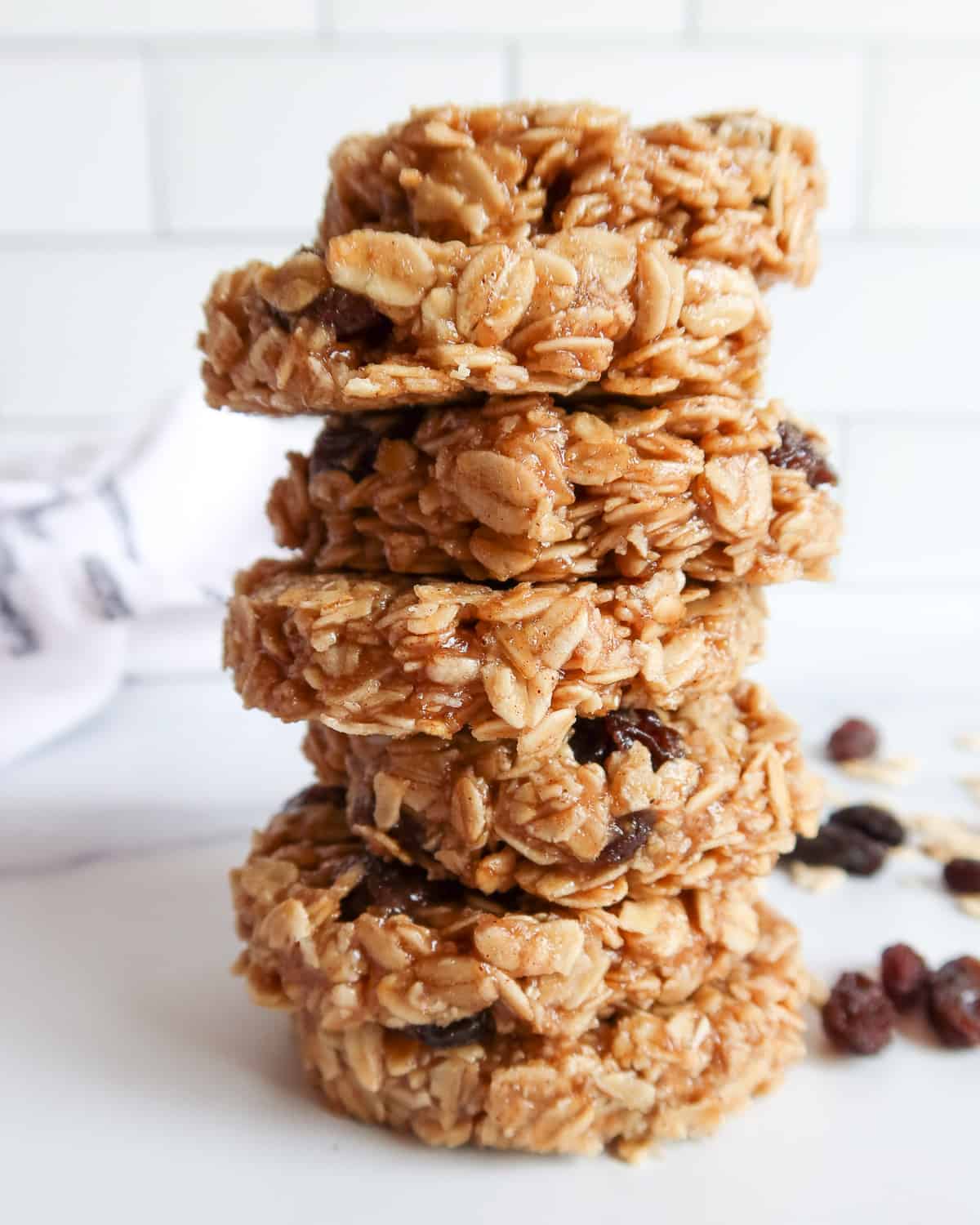 Frequently Asked Questions
What are breakfast cookies?
Breakfast cookies are a healthier treat, often made with oatmeal and sweetened naturally with agave or maple syrup. They typically include mix-ins like raisins, chocolate chips, seeds or nuts. They are also great as a nutritious snack or dessert!
How many calories are in breakfast cookies?
Of course, it will depend on the mix-ins you add to your treats. This particular recipe contains approximately 125 calories per cookie.
Pin it for later!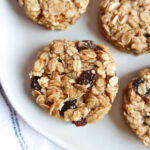 Print Recipe
No Bake Oatmeal Raisin Cookies
Satisfy your sweet tooth with this healthy, no-bake treat. You'll only need a handful of simple ingredients: whole grain oats, tahini, agave, cinnamon and raisins. Mix everything into a dough and form into delicious cookies!
Ingredients
1

cup

whole grain oats

⅓

cup

tahini

2

tablespoons

agave nectar

*see note below

3

tablespoons

raisins

½

teaspoon

cinnamon

1

tablespoon

water
Recipe notes:
Agave nectar:
sugar free agave, or maple syrup are tasty alternatives! You can also use honey if you're not worried about keeping this recipe vegan. 
Instructions
Combine whole grain oats, tahini, agave nectar, raisins and cinnamon in a large mixing bowl and stir together.

1 cup whole grain oats,

⅓ cup tahini,

2 tablespoons agave nectar,

3 tablespoons raisins,

½ teaspoon cinnamon

Add water and mix again. Allow all ingredients to sit together in the bowl for 5-10 minutes (this gives oats time to soften which makes cookies much easier to form)!

Form balls of dough and then gently smash them down and rotate to form a cookie shape. (*Tips: 1). If desired, you can leave dough in a ball shape or press into a parchment paper lined baking sheet and freeze/cut into squares. 2). If dough begins to stick to your hands while forming cookies, give them a quick rinse. This will make it much easier to create your desired shape)!

You can chill your cookies in the freezer or refrigerator before eating them or enjoy them right away. Sprinkle with additional cinnamon if desired!
Storage:
Refrigerate cookies for 2 weeks or freeze for up to 3 months!
Nutrition
Serving:
1
cookie
|
Sugar:
6
g
|
Fiber:
2
g
|
Calories:
125
kcal
|
Fat:
6
g
|
Protein:
3
g
|
Carbohydrates:
16
g
Did you make this recipe?!
Wahoo! Thank you so much for trying it out – would you leave a rating?! Simply click on the stars in the recipe card above.