Have you seen this viral trend floating around the internet lately? Baked feta pasta is insanely delicious and lives up to the hype. It's also quick, simple, easy and ready in 30 minutes or less. It doesn't get much better than that, friends! If you're looking to make this recipe gluten free or lower carb, I recommend substituting spaghetti squash (or gluten free pasta).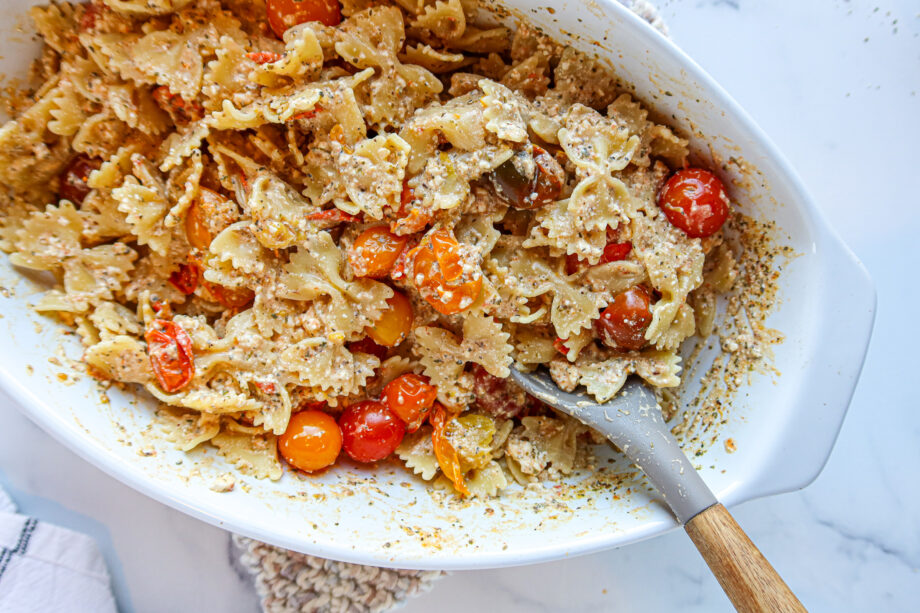 *Disclaimer: This article may contain affiliate links. As an Amazon Associate, I earn from qualifying purchases at no additional cost to you. Thank you for your support!
An overview - making baked feta pasta:
Start by preheating your oven to 400°F.
Place your block of feta cheese in a baking dish. Rinse tomatoes and place them in the baking dish, surrounding the cheese block.
Sprinkle ingredients with seasonings and then bake for 20-25 minutes.
While cheese and tomatoes are baking, boil pasta and set it aside once done.
Once tomatoes and cheese finish roasting, use a spoon to mash cheese and tomatoes together. Stir them up to create a sauce (*note - I like to leave about a quarter of my tomatoes whole!)
Mix cooked pasta into your tomato and feta sauce.
Plate and enjoy!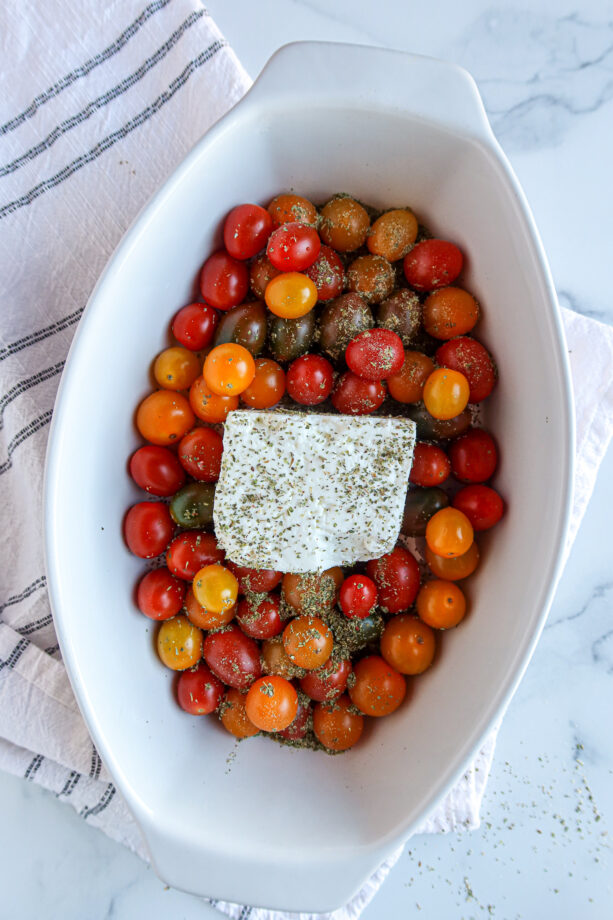 Where can I buy a block of feta cheese?
Normally you can find a block of feta cheese at your local grocery store. Right now, it can be hard to find them with this recipe trending on TikTok. After visiting six grocery stores without any luck, I had the bright idea to Google "specialty cheese shop near me." Several results popped up in the Denver area. I called around and was able to find a cute, little cheese shop with blocks of feta available! I recommend trying the same if you're running into this issue. I've also made this recipe with crumbed feta multiple times and it worked really well!
Handy tips:
Many like to drizzle their tomatoes and feta cheese in olive oil before baking. I've actually found that everything comes together fine without any oil. If you're looking to save a few calories, you'll be fine without it!
One of the coolest things about this recipe is how flexible it is. If you're feeling creative, have some fun! Dice up different types of veggies and roast them along with your tomatoes and feta. Try different kinds of pasta, all shapes and sizes work great. Looking to cut down on carbs? Try zucchini noodles or spaghetti squash instead of traditional pasta. The options are endless!
To add some fun and unique flavor you can drizzle your baked feta pasta with homemade hot honey for a little sweet and spicy goodness!
Baked Feta Pasta
Feta and cherry or constellation tomatoes baked/roasted with seasonings and then mixed into a sauce. Add your favorite pasta and, voila!
Ingredients
2

cups

constellation tomatoes

*about 16 oz *cherry tomatoes will also work!

8

oz

block of feta

*see note below

1 & ½

tablespoons

Italian seasonings

½

teaspoon

salt

¼

teaspoon

pepper

½

teaspoon

garlic

3

cups

bow tie pasta

*about 9 oz *any pasta shape will work!
Recipe notes:
Feta Cheese: Normally you can find a block of feta cheese at your local grocery store. Right now, it can be hard to find them with this recipe trending on TikTok. I recommend searching for a specialty cheese shop in your area, they're more likely to have blocks of feta in stock!
Instructions
Preheat your oven to 400°F.

Place block of feta in a baking dish.

Rinse tomatoes and add them to the baking dish. Arrange them so they surround the block of feta cheese in a single layer.

Sprinkle with Italian seasonings, salt, pepper & garlic.

While feta and tomatoes are baking/roasting, boil pasta according to instructions on packaging. Drain and rinse pasta and set it aside.

Once tomatoes and feta are done baking, use a spoon to mash the cheese and ¾ of the tomatoes into a sauce. Stir pasta into the sauce, mix until well combined.
Nutrition
Serving:
1
/4 th of recipe
|
Sugar:
7.5
g
|
Fiber:
4.5
g
|
Calories:
392
kcal
|
Fat:
9.5
g
|
Protein:
21
g
|
Carbohydrates:
57
g
Did you make this recipe?!
Wahoo! Thank you so much for trying it out – would you leave a rating and review in the comment section below?! Your feedback is so important to me.
What to eat with baked feta pasta: