Need a healthier way to satisfy your sweet tooth? These no bake cheesecake bites are the perfect solution. Sweetened with only a touch of agave nectar and dark chocolate, they're very low sugar. They're also keto friendly, low-carb and only 125 calories each! This quick, easy recipe requires only 30 minutes of hands on time - no baking required.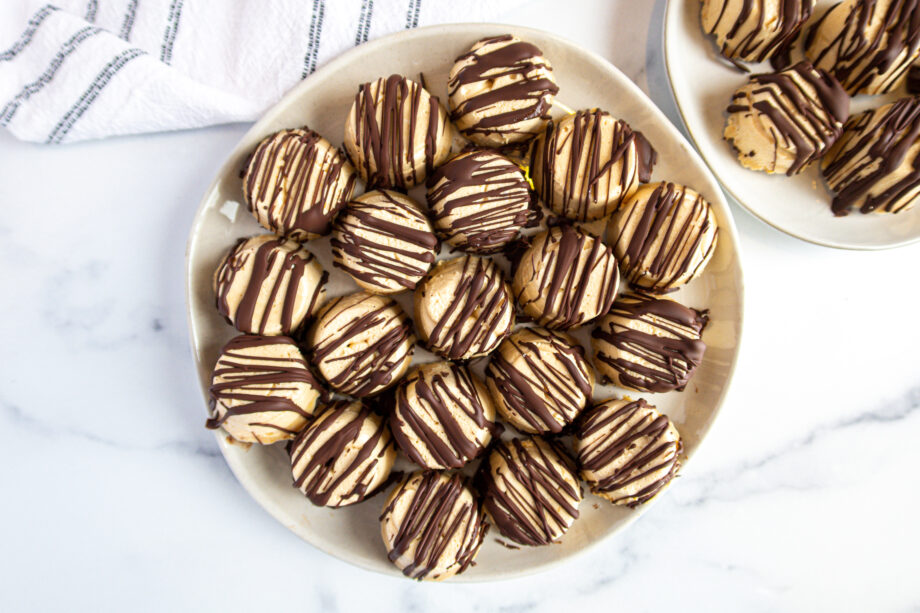 *Disclaimer: This article may contain affiliate links. As an Amazon Associate, I earn from qualifying purchases at no additional cost to you. Thank you for your support!
A quick overview - making cheesecake bites:
Keep scrolling for complete recipe and instructions. We'll start here with a super quick rundown!
Measure cream cheese, peanut butter powder, agave, salt, vanilla and heavy cream into a small bowl. Mix on high until smooth.
Use a spatula to transfer batter into a small zip log back. Cut off one corner of the baggie and squeeze mixture into muffin pan cavities until they are about two-thirds full.
Crush peanuts and stir in melted coconut oil.
Fill muffin cups to the top with peanut crust mixture.
Freeze for 2 hours or overnight.
Pop cheesecake bites out of the pan and drizzle with melted chocolate.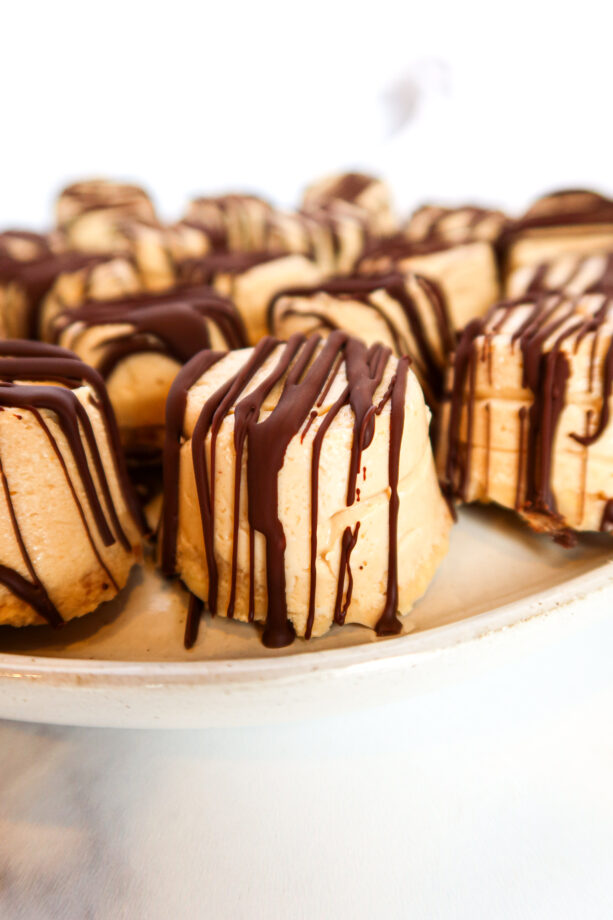 Special equipment needed:
To make your cheesecake bites you'll need a silicone mini muffin pan. Pictured below is the one I use and it's AWESOME. It's freezer safe and oven safe so you can use it for baked goods, too! It's also non-stick and dishwasher safe so clean up is easy. The best part? It's very affordable (and cute)!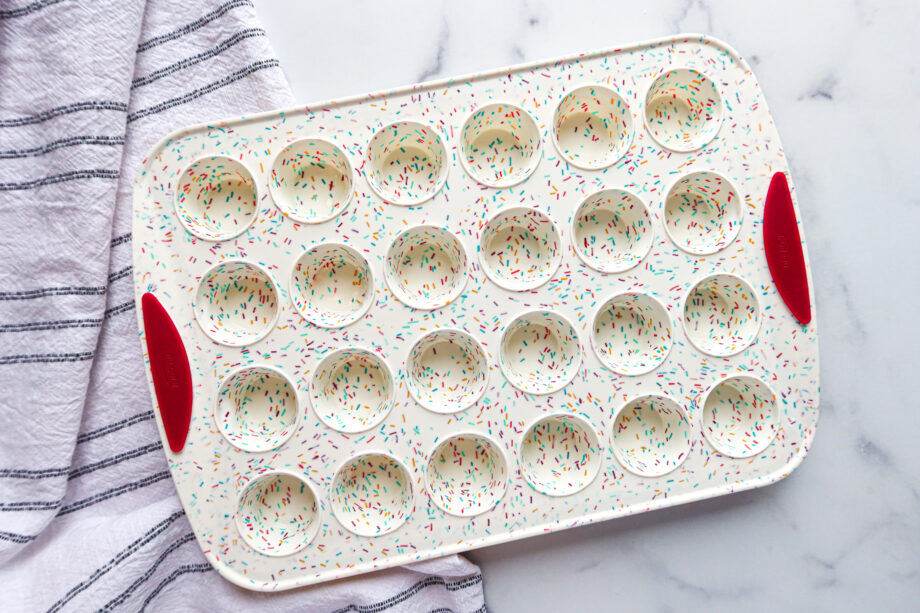 Step by step:
Keto Cheesecake Bites (No Bake)!
Ingredients
8

oz

cream cheese

*one standard size bar

⅓

cup

peanut butter powder

*see note below

¼

cup

agave nectar

2

tablespoons

heavy cream

1

teaspoon

vanilla extract

½

teaspoon

salt

1 & ½

cups

roasted & salted peanuts

*crushed

2 & ½

tablespoons

coconut oil

*divided

¼

cup

dark chocolate chips

*see note below
Recipe notes:
Peanut butter powder: most grocery stores carry peanut butter powder, you can typically find it close to the regular peanut butter. You can also get it on Amazon!
Chocolate chips: I always use Ghirardelli dark chocolate chips – they are SO good. I highly recommend them!
Instructions
Measure cream cheese, peanut butter powder, agave nectar, heavy cream, vanilla extract and salt into a small mixing bowl. Beat ingredients together with an electric mixture on medium high for 2-3 minutes (until smooth), stopping to scrape the sides of the bowl with a spatula when necessary.

Line a drinking glass with a small Ziploc bag and use a spatula to transfer ingredients into the open baggie. Remove from the glass and zip closed, cut off one corner of the bag at the very tip to create a small opening. (*Note: make sure you cut off only the VERY tip of the bag. you don't want a very big opening. You can go back later and cut a little more if necessary).

Use a food processor to crush your peanuts into small crumbs. (If you don't have a food processor you can also put your nuts into a Ziploc bag and crush them with a rolling pin/drinking glass or mince them up with a knife).

Melt 2 tablespoons of coconut oil (the remaining ½ tablespoon will be added to your chocolate drizzle) and add it to the peanut crumbs. Stir until well combined and then fill muffin pan cavities to the top with mixture. (*Tip: it's helpful to stir the peanuts and oil on occasion while portioning out to keep ingredients evenly distributed).

Freeze for 2 hours (or overnight).

Once fully frozen, line a baking sheet with parchment paper and pop cheesecake bites out of the muffin pan. Arrange them on the baking sheet.

Measure chocolate chips and remaining ½ tablespoon of coconut oil into a small, microwave safe bowl and melt. Drizzle melted chocolate over your cheesecake bites.

Eat immediately or freeze/refrigerate your bites until you are ready to enjoy!
Nutrition
Serving:
1
bite
|
Sugar:
4.5
g
|
Fiber:
1
g
|
Calories:
125
kcal
|
Fat:
10
g
|
Protein:
3.5
g
|
Carbohydrates:
6.5
g
More healthy dessert ideas: